Saw this tag on Jesalin @ JBelkBooks, one of my Comment Challenge partners for this month, and had to take part in it because if there's anything I do love, it's a pretty book. If you'd like to give this tag a shot, feel free to add a link to your post in the comments, I'd love to take a look! Covers are linked to Goodreads. Let's get started…
BEST COLOR COMBO ON A BOOK COVER
The cover for These Broken Stars by Amie Kaufman and Megan Spooner is stunning. I love the billowing green dress, the star-infused blue sky, and how the model's red hair immediately draws the eye. Ah, so pretty.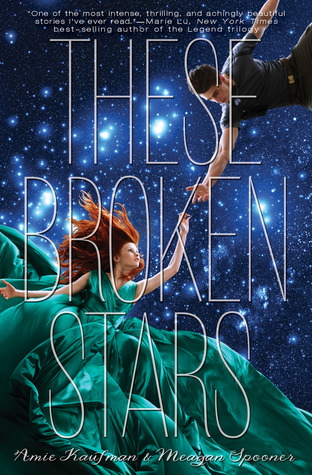 BEST TYPOGRAPHY/FONT ON THE COVER
Six of Crows duology by Leigh Bardugo. These book covers are so lovely, I love how prominent the titles are and the font.
BEST SIMPLE COVER

The Strange and Beautiful Sorrows of Ava Lavender by Leslye Walton. A simple and meaningful cover.
BEST ENDPAGES
I adore the endpapers in my Barnes & Noble Collectible Edition of Pride and Prejudice by Jane Austen.
BEST MAP
I love maps. I think every fantasy book should come with a map and that we should be able to remove them from the book as a convenient reference while reading. Don't know if I have a favorite map in particular, but I did like how important maps were in Heidi Heilig's The Girl From Everywhere.
BEST NAKED HARDBACK
I like it when a hardcover book is hiding something special underneath its dust jacket. Destiny Soria's The Iron Cast is a beautiful book altogether.
BEST BACK COVER
My Jane Austen Heirloom edition box set has the prettiest back covers with quotes from the books. Here is the one for Pride & Prejudice.
BEST CHAPTER HEADERS
Daughter of the Forest by Juliet Marillier has the loveliest chapter headers.
BEST ILLUSTRATIONS
My favorite illustrations hands down are Jim Kay's in the illustrated edition of Harry Potter and the Sorcerer's Stone by J.K. Rowling.
BEST SPINE
There are so many books with amazing spines, but I especially love it when a set of spines form one image like this Percy Jackson and the Olympians box set.
FAVORITE COVER ON YOUR SHELVES
Yeah, I don't know how I could possibly choose just one, but here are a few that I particularly love: The Winner's Curse by Marie Rutkoski, The Raven King by Maggie Stiefvater, Wildwood Dancing by Juliet Marillier, A Darker Shade of Magic by V.E. Schwab, and Labyrinth Lost by Zoraida Córdova.
Final Note: Today is the final day to sign up for March for the Winter 2017 Comment Challenge. We'll be partnering you with another book blogger and all month long you will be encouraged to comment on each other's blogs. We'd love for you to join us. Click the image to the left for all the info.