I have very mixed feelings about January. There were some really good moments, but sometimes it feels like we're living in the Twilight Zone in this country. It can be really disheartening and stressful. Unfortunately, reading and blogging can be hard during these times. This month I did read five books, reread another, listened to my first audio book, and picked up my first graphic novel. I'm so happy I decided to tackle audio books and graphic novels for the first time because I enjoyed both and will definitely be exploring both more in the future.
(Book covers below are linked to my reviews, unless otherwise specified.)
Favorite Book This Month: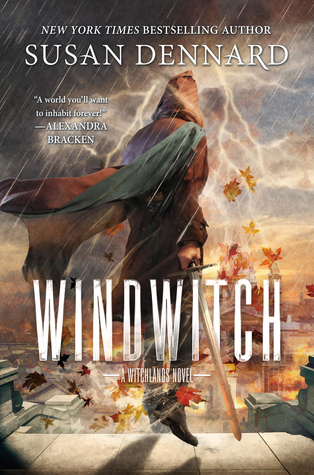 I love it when a sequel is even better than the first book in a series. Susan Dennard's Windwitch was amazing and I'm dying to get my hands on the third book.
Least Favorite Book This Month:
I am not having very much luck with ARCs lately. Gilded Cage by Vic James failed to draw me in, which leaves me very confused as most seem to have enjoyed this one. Review will go up next month. Cover is linked to Goodreads.
Reviews Posted This Month:
Read But Not Reviewed Yet:
Notable Blog Posts This Month:
Top Ten Tuesday: Ten Jane Austen Editions I Want – All the Jane Austen books I'm salivating over.
Winter 2017 Comment Challenge: February Sign-up – The Comment Challenge is back in business this Winter! If you'd like to join us for March, look for our sign-up post tomorrow.
2017 Reading/Blogging Challenges – Announcing challenges I'm taking part in this year.
Kernels of Nonsense: Preordering Debut Books – My first discussion post of the year, talking about how one decides if preordering debuts is worth it.
Reading Challenges:
It's the first month for these challenges and I think I'm off to a wonderful start…
1. The 2017 Debut Author Challenge is hosted by That Artsy Reader Girl. I read three debuts this month: The Hundred Lies of Lizzie Lovett by Chelsea Sedoti, Gilded Cage by Vic James, and Wintersong by S. Jae-Jones.
Challenge Goal: 12 books; Current Count: 3 books
2. Flights of Fantasy Reading Challenge 2017 is hosted by Alexa Loves Books and Hello, Cherry. I wasn't sure if I'd include certain subgenres (magical realism, dystopian fantasy, would graphic novels count?) when it came to this challenge, but I think I'm going to restrict my count to books I'd just label fantasy. This month I picked up the following fantasy books: Susan Dennard's Windwitch and S. Jae-Jones's Wintersong.
Challenge Goal: 20 books; Current Count: 2 books
February Releases I'm Excited For (so many!!!):
How was your January? Any February releases you're extra excited about? Let me hear from you in the comments and feel free to leave me a link to your own wrap-up post and I'll be sure to visit.