Top Ten Tuesday is an original blog meme hosted by The Broke and the Bookish. This week's topic is a Freebie. Freebie week is always fun. I love how creative some of you can get with your lists and because I wasn't feel too creative this week, I thought I'd just put together a post featuring the Jane Austen editions I so desperately need. Covers are linked to Goodreads or website they are available on.
1. Pride and Prejudice (illustrated by Alice Pattullo) – I know I've mentioned this one before, but I really really want it. I had plans to buy it for myself, but it's not available 😦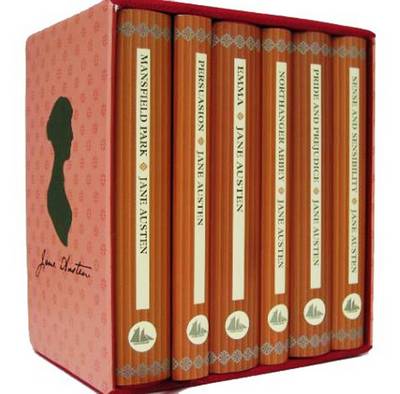 2. Collector's Library Box Set – I have copies of P&P and Persuasion in this edition and they are so small and cute, I'd love to complete my collection with the other four.
3. Juniper Book's Pink Set – I don't think I've ever seen a prettier set of Jane Austen books *cries forever because she is not rich*.
4. Penguin Classics Hardcover Box Set – I'd love this box set so much. If you look at the individual book covers, they are so lovely (I will overuse this word while talking about Jane Austen editions).
5. Barnes & Noble Collectible Edition of Sense and Sensibility – I have the blue edition of Pride and Prejudice (you may recognize it from my profile picture), but I really want this beautiful edition of S&S. There's also a really lovely Persuasion edition as well. I don't see them in stores anymore however.
6. Vintage Classics Editions – I want all of these editions of Jane Austen's novels. They are so pretty and I'd just stare at them all day.
7. Penguin English Library Editions – I have P&P and Persuasion in this edition, but what's the point of only having two? I need the whole collection!
8. Penguin Classics Deluxe Edition of Emma – I'm not as fond of the other books in this edition, but this Emma cover is so lovely.
9. Penguin Complete Jane Austen – It's not really practical to own an edition that contains all of Austen's books, but where is logic when it comes to my love for all these editions? That cover is really hard to resist.
10. UK Vintage Classics Editions – Look how pretty this Northanger Abbey edition is! I need all of Austen's books in this edition yesterday.
Do you happen to own any of these? Are you an Austen fan? Do you have a favorite Austen book? Any one author whose books you own multiple editions of? Let me know in the comments and be sure leave a link to your own TTT post, so I can visit.