The 7th Annual End of the Year Survey was created by The Perceptual-Page Turner and is a really great way to look back on 2016. This is my third time doing this survey and I always enjoy taking a little time to evaluate my year in terms of books. If you get a chance to take part in this survey, feel free to leave a link to your post in the comments and I'll be sure to have a look. Covers featured below are linked to Goodreads.


Number Of Books You Read: 77 (aiming for 78 by the end of the day)
Number of Re-Reads: 6
Genre You Read The Most From: Fantasy, but I read a lot of contemporary and historical fiction books as well.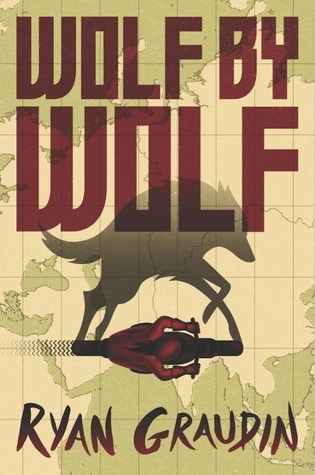 1. Best Book You Read In 2016?
Did you say books with an "s" because I'd have to say among my favorites were Ryan Graudin's Wolf By Wolf, Leigh Bardugo's Crooked Kingdom, and Maggie Steifvater's The Raven King.
2. Book You Were Excited About & Thought You Were Going To Love More But Didn't?
Sarah Ahiers's Assassin's Heart. I really love assassins and I wanted to fall in love with this one, but it ended up being meh for me.
3. Most surprising (in a good way or bad way) book you read?

I was really surprised by how much I liked Erin Bowman's Vengeance Road. I'm really not into westerns, but yet this one really impressed me.
4. Book You "Pushed" The Most People To Read (And They Did)?
I think I may have mentioned the brilliance of Ryan Graudin's Wolf By Wolf every opportunity I had. Have you read it? You must!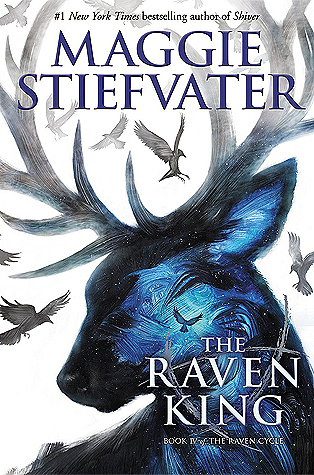 5. Best series you started in 2016? Best Sequel of 2016? Best Series Ender of 2016?
I feel like Susan Dennard's Truthwitch has a lot of potential, so I'm going with that for best series started in 2016. Best sequel goes to Leigh Bardugo's Crooked Kingdom. I loved it so much, I'm even itching to reread the duology right now. Stiefvater's The Raven King wins best series ender. It was everything I loved about the previous three books and more.
6. Favorite new author you discovered in 2016?

I discovered some really good authors this year, but like to spotlight Destiny Soria. Her debut Iron Cast was such a breath of fresh air. I plan to pick up all her subsequent novels.
7. Best book from a genre you don't typically read/was out of your comfort zone?
I already mentioned Erin Bowman's Vengeance Road, but another book I was surprised I liked so much was Natasha Preston's The Cellar. I don't pick up a lot of thrillers, but this was very good.
8. Most action-packed/thrilling/unputdownable book of the year?
Ryan Graudin's Blood for Blood was pretty unputdownable. I was fully invested in Yael's story since Wolf By Wolf, so I needed to know the end of her story.

9. Book You Read In 2016 That You Are Most Likely To Re-Read Next Year?
There are a couple of books that I plan to reread in 2017, the highest on my list being V. E. Schwab's A Gathering of Shadows. I must reread the first two books in the series before the final book is released.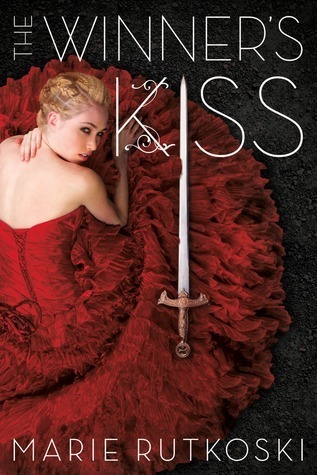 10. Favorite cover of a book you read in 2016?
Hands down, it's Marie Rutkoski's The Winner's Kiss cover. I am so happy that the publisher didn't go through with the original plan to change the final cover.
11. Most memorable character of 2016?
Lada from Kierten White's And I Darken. This girl, this girl is equal parts scary and admirable.
12. Most beautifully written book read in 2016?
This is a toss up for me between Mindy McGinnis's A Darkness So Discreet and Nicola Yoon's The Sun Is Also a Star. Both author's writing blew me away.
13. Most Thought-Provoking/ Life-Changing Book of 2016?
I'm going to have to go with Ryan Graudin's Wolf By Wolf again. This book, people, this book.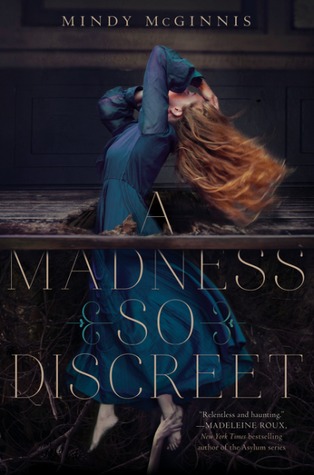 14. Book you can't believe you waited UNTIL 2016 to finally read?
Definitely Mindy McGinnis's A Madness So Discreet. I feel like this book is the perfect fit for me and I really regret passing it up last year.
15. Favorite Passage/Quote From A Book You Read In 2016?
I was supposed to be better at keeping track of favorite passages, but I totally failed on that front. That being said, I did really like this particular passage from Cat Winter's The Steep & Thorny Way:
"The nighttime forest glowed in a strange haze of gold, and the fat trunks and green awnings soured high above, as if I were nothing more than a spider scampering through a window box."
16. Shortest & Longest Book You Read In 2016?
Shortest book was Lauren DeStefano's The Peculiar Night of the Blue Heart (208 pages) and the longest was Leigh Bardugo's Crooked Kingdom (546).
17. Book That Shocked You The Most
Jennifer Lynn Barnes's The Long Game ripped my heart out and threw it into the fire. Not over it, won't be over it, can't be over it.

18. OTP OF THE YEAR (you will go down with this ship!)
This might be the easiest question on this list because my love for Kaz and Inej has no bounds!!!!!
19. Favorite Non-Romantic Relationship Of The Year
Ada and Corinne from Destiny Soria's Iron Cast is my favorite female friendship, I love their relationship so much.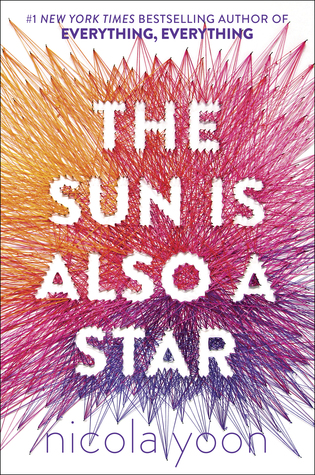 20. Favorite Book You Read in 2016 From An Author You've Read Previously
The Sun is Also a Star by Nicola Yoon was fantastic. I liked Everything, Everything, but I kind of loved this second book.
21. Best Book You Read In 2016 That You Read Based SOLELY On A Recommendation From Somebody Else/Peer Pressure:
Ruta Sepetys's Salt to the Sea is a book I bought and read because of all the praise it received from my fellow bloggers. Thank you all by the way, it was great.
22. Newest fictional crush from a book you read in 2016?
Huh. I don't think I have any new fictional boyfriends to add to my list this year. How weird.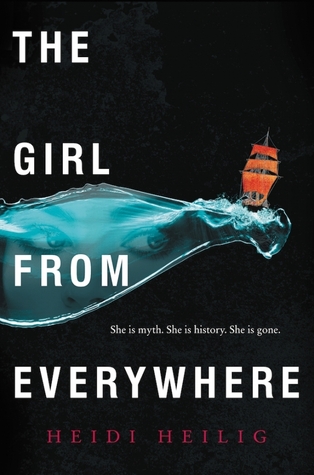 23. Best 2016 debut you read?
Upon further reflection, I think Heidi Heilig's The Girl From Everywhere is the best debut I read this year.
24. Best Worldbuilding/Most Vivid Setting You Read This Year?
Both Leigh Bardugo and V. E. Schwab excel at wordbuilding, I'm always in awe.
25. Book That Put A Smile On Your Face/Was The Most FUN To Read?
My Lady Jane by Cynthia Hand, Brodi Ashton, and Jodi Meadows had me laughing so much. It was such a fun experience to read and I'm really looking forward to what they write together next.
26. Book That Made You Cry Or Nearly Cry in 2016?
Both Ryan Graudin's Blood For Blood and Maggie Steifvater's The Raven King had me close to tears.
27. Hidden Gem Of The Year?
That goes to Destiny Soria's Iron Cast. I've already mentioned this one a couple of times, but I cannot believe how many people haven't read it.
28. Book That Crushed Your Soul?
Leigh Bardugo's Crooked Kingdom really packed a punch. I'm still feeling it.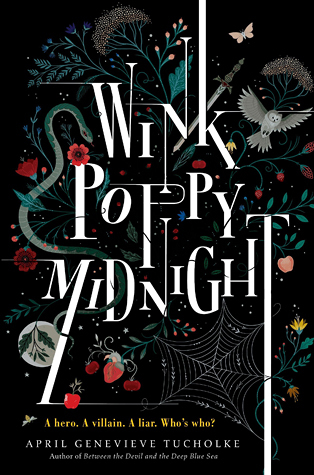 29. Most Unique Book You Read In 2016?
Wink Poppy Midnight by April Genevieve Tucholke was really weird and really odd and really good.
30. Book That Made You The Most Mad (doesn't necessarily mean you didn't like it)?
Honestly, I don't think any books I read made me angry this year. Even the ones that I didn't particularly like were disappointing, but they didn't make me mad.



1. New favorite book blog you discovered in 2016?
Stephanie's Adventures of a Bibliophile is a blogger whose opinion I really value. If she didn't enjoy a book, the odds are I won't either. I really trust her judgment and just enjoy everything she posts. If you're not following her, do it.
2. Favorite review that you wrote in 2016?
I really enjoyed writing my review for Kiersten White's And I Darken.
3. Best discussion/non-review post you had on your blog?
Kernel of Nonsense: When An Author Keeps Disappointing You was my favorite discussion post of the year. It was really a cathartic writing experience.
4. Best event that you participated in (author signings, festivals, virtual events, memes, etc.)?
I participated in Armchair BEA for the first time this year which was a lot of fun. I'll definitely be doing it again because let's be realistic, the odds that I'll ever be able to go to BEA are slim.
5. Best moment of bookish/blogging life in 2016?
Being able to host the Comment Challenge with Lonna @ FLYLēF over the summer was one of my favorite things I've ever done as a blogger (A little self-promotion here, we're hosting the same challenge over the winter months and you can participate in February. Just look for our sign-up post on the 2nd).
6. Most challenging thing about blogging or your reading life this year?
The slumps. Oh, I had some crazy end of the year reading and blogging slumps. It was a struggle to get through a few books and even more of a struggle to find the motivation to blog.
7. Most Popular Post This Year On Your Blog (whether it be by comments or views)?
Kernels of Nonsense: The Ugly Side of Book Blogging was my most popular post this year. Sometimes being a blogger can be messy.
8. Post You Wished Got A Little More Love?
Someone give some love to my review of All In by Jennifer Lynn Barnes. I think one of the reasons it didn't get too much love is because it's the third installment in a series that not everyone has read 😦
9. Best bookish discover (book related sites, book stores, etc.)?
I discovered that I would do well not to discover any more bookish sites.
10.  Did you complete any reading challenges or goals that you had set for yourself at the beginning of this year?
I completed my Goodreads goal, along with several other challenges I participated in (the 2016 Debut Author Challenge is hosted by That Artsy Reader Girl, 2016 Read My Books Challenge is hosted by The Worn Bookmark, and 2016 Finishing the Series Challenge is hosted by Bea's Book Nook).


1. One Book You Didn't Get To In 2015 But Will Be Your Number 1 Priority in 2017?
I'm going to go with Aristotle and Dante Discover the Secrets of the Universe by Benjamin Alire Sáenz. I think I might make this one my first audio book as well because Lin-Manuel Miranda!!!!
2. Book You Are Most Anticipating For 2017 (non-debut)?
I'm super stoked for The Conjuring of Light by V. E. Schwab and also scared…
3. 2017 Debut You Are Most Anticipating?
The Education of Margot Sanchez by Lilliam Rivera, hands down.
4. Series Ending/A Sequel You Are Most Anticipating in 2017?
I already mentioned The Conjuring of Light, but second would be Heidi Heilig's The Ship Beyond Time.
5. One Thing You Hope To Accomplish Or Do In Your Reading/Blogging Life In 2017?
Participate in a buddy read and maybe one readathon.
6. A 2017 Release You've Already Read & Recommend To Everyone:
None. I'm saving my 2017 ARCs for next year because I just don't have time to read them yet.