With the end of the year just around the corner, it's nice to be able to put together a couple of mini reviews instead of full ones. This week I have a few thoughts to share on two recent releases: Mindy McGinnis's The Female of the Species and Rae Carson's Like a River Glorious. Covers below are linked to Goodreads.
Title: The Female of the Species
Author: Mindy McGinnis
Series: N/A
Pages: 344
Publisher: Katherine Tegen Books
Release Date: September 20th 2016 
      "Alex Craft knows how to kill someone. And she doesn't feel bad about it. When her older sister, Anna, was murdered three years ago and the killer walked free, Alex uncaged the language she knows best. The language of violence.
      While her crime goes unpunished, Alex knows she can't be trusted among other people, even in her small hometown. She relegates herself to the shadows, a girl who goes unseen in plain sight, unremarkable in the high school hallways.
      But Jack Fisher sees her. He's the guy all other guys want to be: the star athlete gunning for valedictorian with the prom queen on his arm. Guilt over the role he played the night Anna's body was discovered hasn't let him forget Alex over the years, and now her green eyes amid a constellation of freckles have his attention. He doesn't want to only see Alex Craft; he wants to know her.
      So does Peekay, the preacher's kid, a girl whose identity is entangled with her dad's job, though that does not stop her from knowing the taste of beer or missing the touch of her ex-boyfriend. When Peekay and Alex start working together at the animal shelter, a friendship forms and Alex's protective nature extends to more than just the dogs and cats they care for.
      Circumstances bring Alex, Jack, and Peekay together as their senior year unfolds. While partying one night, Alex's darker nature breaks out, setting the teens on a collision course that will change their lives forever."
      "Sometimes I forget for one second and it hurts.
      It's a different kind of pain than the constant, the weight that hangs from my heart. It swings from twine embedded so deeply that my aorta has grown around it. Blood pulses past rope in the chambers of my heart, dragging away tiny fibers until my whole body is suffused and pain is all I am and ever can be."
I had really high expectations for Mindy McGinnis's The Female of the Species after being so impressed with A Madness So Discreet. While the concept itself was really interesting and I found myself rooting for Alex despite her violent tendencies (or maybe because of them), I was hoping for a deeper exploration of this protagonist's psyche. From the get-go, we learn just what she is capable of and slowly get a bit of backstory to help understand where she inherited these vicious impulses, but I wish the narrative would have slowed down when it came to her backstory. Much of the story focuses on Alex's growing relationship with both Peekay and Jack. Of the two main relationships highlighted in this novel, Alex's friendship with Peekay felt more genuine and significant. Jack was a character I wanted to like, but his character development revolved only around Alex and I just wanted more from him. I don't want to diminish the important subjects this novel touches on like rape culture and gender roles, so if either of those subjects interest you, I'd recommend this one.
Rating: 3/5
★★★
---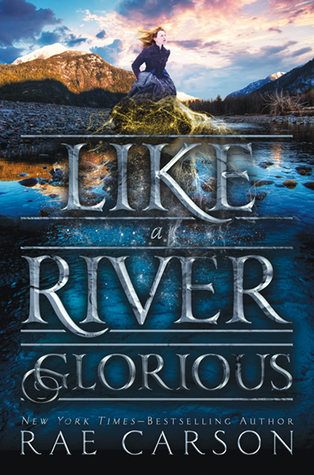 Title: Like a River Glorious
Author: Rae Carson
Series: The Gold Seer Trilogy, #2
Pages: 398
Publisher: Greenwillow Books
Release Date: September 27th 2016

      "Lee Westfall survived the dangerous journey to California. She found a new family in the other outcasts of their wagon train, and Jefferson, her best friend, is beginning to woo her shamelessly. Now they have a real home—one rich in gold, thanks to Lee's magical ability to sense the precious metal in the world around her.
      But Lee's Uncle Hiram has survived his own journey west. He's already murdered her parents, and he will do anything to have Lee and her talents under his control. No one is safe. When he kidnaps her, she sees firsthand the depths of his depravity.
      Lee's magic is changing, though. It is growing. The gold no longer simply sings to her—it listens. It obeys her call. Will that alone be enough to destroy her uncle?"
"A condor soars high above. It's a giant of a bird, bigger even than an eagle, with magnificent black-and-white wings. Like everything else in this territory, it's both familiar and odd, and it makes my old home in Georgia seem like a very small, distant place."
Rae Carson proves once again in the second book in her Gold Seer Trilogy that she is a phenomenal writer. While I do think Like a River Glorious lacked the kind of focus found in Walk on Earth a Stranger, it was really enjoyable to read about Lee coming into her ability in this one. One of my favorite aspects of the first novel was Lee's relationship with her best friend Jefferson. In this book, we see their relationship progress further, but I would have liked to have seen more of Lee's feelings transition from friendly to romantic. With the way this Like a River Glorious ended, I'm unsure of Carson's overall plot to this trilogy, as much of conflict seems resolved by the end of this one.
Rating: 3/5
★★★