It's been a while since I put together a couple of mini reviews. I'm seeing a pattern emerge with these mini reviews, that I'm more likely to write them when I've rated a book three stars. It's always those books in the middle that are sometimes hard to find all the right words for. This week I'm reviewing Meg Medina's The Girl Who Could Silence the Wind and Sharon Cameron's The Forgetting. Covers below are linked to Goodreads.
Title: The Girl Who Could Silence the Wind
Author: Meg Medina
Series: N/A
Pages: 256
Publisher: Candlewick
Release Date: March 13th 2012 
      "Sixteen-year-old Sonia Ocampo was born on the night of the worst storm Tres Montes had ever seen. And when the winds mercifully stopped, an unshakable belief in the girl's protective powers began. All her life, Sonia has been asked to pray for sick mothers or missing sons, as worried parents and friends press silver milagros in her hands. Sonia knows she has no special powers, but how can she disappoint those who look to her for solace?
      Still, her conscience is heavy, so when she gets a chance to travel to the city and work in the home of a wealthy woman, she seizes it. At first, Sonia feels freedom in being treated like all the other girls. But when news arrives that her beloved brother has disappeared while looking for work, she learns to her sorrow that she can never truly leave the past or her family behind. "
"What would you do here in Tres Montes. Sonia? We both know that not even a magic girl can fill stomachs with wind and spells."
Meg Medina's The Girl Who Could Silence the Wind is a story of a girl who learns to define herself when her entire identity has been defined by how other people see her. For people in Tres Montes, Sonia Ocampo's birth was a blessing that brought peace to the town when they were sure it would crumble under a storm. Over the years, her prayers on their behalf have kept them safe and healed the sick. But this gift has become a curse to Sonia, she grows weary of shouldering the town's burdens and it feels impossible to continue when she begins to doubt her gift. Although I found this story enjoyable, I couldn't help but want more. The novel itself was very short and I would have liked to have spent more time with Sonia and her town before she chose to leave it. With family ties at its core, The Girl Who Could Silence the Wind is a beautifully told coming-of-age story that is both heartbreaking and hopeful.
Rating: 3/5
★★★
---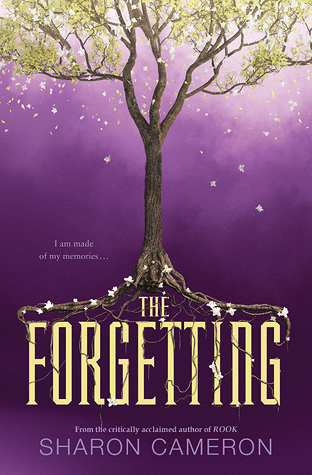 Title: The Forgetting
Author: Sharon Cameron
Series: N/A
Pages: 403
Publisher: Scholastic Press
Release Date: September 13th 2016

      "Nadia lives in the city of Canaan, where life is safe and structured, hemmed in by white stone walls and no memory of what came before. But every twelve years the city descends into the bloody chaos of the Forgetting, a day of no remorse, when each person's memories – of parents, children, love, life, and self – are lost. Unless they have been written.
      In Canaan, your book is your truth and your identity, and Nadia knows exactly who hasn't written the truth. Because Nadia is the only person in Canaan who has never forgotten.
      But when Nadia begins to use her memories to solve the mysteries of Canaan, she discovers truths about herself and Gray, the handsome glassblower, that will change her world forever. As the anarchy of the Forgetting approaches, Nadia and Gray must stop an unseen enemy that threatens both their city and their own existence – before the people can forget the truth. And before Gray can forget her."
"We run, hard, and the ground falls away, and then we are the ones falling, soaring, and I catch a glimpse of the sparkling canyon, the misty pool below, the spray of the waterfall, three moons cresting the peak of a mountain."
I approached Sharon Cameron's The Forgetting with a little apprehension. Dystopian novels have had their day in my mind and they all start to sound alike after a while. This novel really didn't offer anything new when compared to other dystopian books. I will say that Nadia's character was different from what I typically see in these kind of novels. She's quiet and withdrawn, a reaction to feeling very alone in the world. But Nadia also keeps herself closed off from others as a matter of self-preservation. Her closest relationship is with her younger sister Genivee, and even though her older sister Liliya is determined to be rid of her, Nadia shows a deep devotion to both. Gray himself was a likable character, but there was nothing particularly unique about him. The Forgetting wasn't necessarily a bad book, but not much about it felt very memorable.
Rating: 3/5
★★★