Top Ten Tuesday is an original blog meme hosted by The Broke and the Bookish. This week's topic is "Movie Freebie." I know in the past I've been known for being very wary of movie adaptations and in general I really don't look forward to them, but I thought I'd take the opportunity this week to list ten of my favorite movie adaptations. These favorites don't change my opinion that movie adaptations in general are letdowns and sometimes it's just better to leave certain stories on the pages, but I enjoy these quite a bit.
1. Pride & Prejudice (2005) – I know a lot of people are staunch P&P BBC fans, and although I really like it too, the 2005 movie version is still one of my favorites. This rain scene…ah, be still my beating heart. Whenever I'm feeling down, this is my go-to movie.
2. Harry Potter and the Sorcerer's Stone (2001) – I'm not sure a movie has ever cast a spell on me quite like this first HP movie did. I saw this one in the theater more times than I will admit here, but who can blame me? I love all the Harry Potter movies, but this one has a special place in my heart.
3. The Outsiders (1983) – I adore this movie adaptation so much. I think The Outsiders was the first book I ever loved and this movie brings me to tears every time I watch it. Also, it does not escape my attention that all these boys are prettier than I am.
4. To Kill a Mockingbird (1962) – This may be the greatest movie adaptation of all time. I actually think I watched this movie before reading the novel. Both are almost flawless.
5. The Princess Bride (1987) – One of the rare cases where I actually think the movie is better than the book, The Princess Bride really is a modern classic. How can you not be charmed by this one?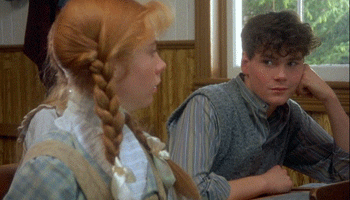 6. Anne of Green Gables (1985) – I love love love this movie so much. Don't tell anyone, but I think I may like it more than the book. Megan Follows is such an amazing Anne Shirley, I don't think anyone else will ever compare.
7. Flipped (2010) – You know when a story is changed so much in order to adapt it to film and you hate it? This wasn't the case with Flipped. Even though the time period is different, I loved this adaptation so much. It so cute, I can't even.
8. Misery (1990) – This is a really good adaptation of Stephen King's Misery. Actually, I think Kathy Bates's Annie Wilkes is only half as frightening as the one on the page. I get chills thinking about this character.
9. The Lion, the Witch, and the Wardrobe (2005) – This movie is oh so charming. The Pevensies are simply too adorable and I just love every one of them. I actually want to rewatch this one right now.
10. Sense & Sensibility (1995) – I really like this version of Sense & Sensibility, both Emma Thompson and Kate Winslet are wonderful in this one (also I just adore Alan Rickman's Colonel Brandon).
How do you feel about movie adaptations? What's your favorite? Did you enjoy any on my list? Let me know in the comments and be sure to leave a link to your own TTT post, so I can visit.