Who says October is the only time you can pick up a frightfully fun book? I love reading creepy reads throughout the month, but I'm also interested in picking up the genre when Halloween isn't around the corner. Here is a list of future releases that have caught my eye and I hope you'll add them to your TBR as well. Some of these are not strictly horror (some are mystery/thriller), but I think they still fit the bill (Scythe is on the list based on the cover alone, isn't it fantastic?). Covers are linked to Goodreads (or titles if a cover is not available).
1. Dead Girls Society by Michelle Krys
Release Date: November 8, 2016

Hope is sick of everyone treating her like she's breakable. Sure, she has cystic fibrosis (basically really bad lungs), but she's tired of being babied by her mom and her overprotective best friend, Ethan, not to mention worrying about paying for her expensive medication and how she's going to afford college.And she's bored with life in her run-down New Orleans suburb.

When an invitation arrives from a mysterious group that calls itself the Society, Hope jumps at the chance for some excitement. This could be her ticket out. All she has to do is complete a few dares and she just might win some real money. But the Society isn't all that it seems . . . and soon Hope finds that playing the game isn't a choice—it's a requirement.
2. My Sister Rosa by Justine Larbalestier
Release Date: November 15, 2016
Seventeen-year-old Aussie Che Taylor loves his younger sister, Rosa. But he's also certain that she's a diagnosable psychopath—clinically, threateningly, dangerously. Recently Rosa has been making trouble, hurting things. Che is the only one who knows; he's the only one his sister trusts. Rosa is smart, talented, pretty, and very good at hiding what she is and the violence she's capable of.

Their parents, whose business takes the family from place to place, brush off the warning signs as Rosa's 'acting out.' Now that they have moved again—from Bangkok to New York City—their new hometown provides far too many opportunities for Rosa to play her increasingly complex and disturbing games. Alone, Che must balance his desire to protect Rosa from the world with the desperate need to protect the world from her.
3. Scythe by Neal Shusterman
Release Date: November 22, 2016
In a world where disease has been eliminated, the only way to die is to be randomly killed ("gleaned") by professional reapers ("scythes"). Citra and Rowan are teenagers who have been selected to be scythe's apprentices, and—despite wanting nothing to do with the vocation—they must learn the art of killing and come to understand the necessity of what they do.

Only one of them will be chosen as a scythe's apprentice. And when it becomes clear that the winning apprentice's first task will be to glean the loser, Citra and Rowan are pitted against one another in a fight for their lives.
4. The Hundred Lies of Lizzie Lovett by Chelsea Sedoti
Release Date: January 3, 2017
Hawthorn wasn't trying to insert herself into a missing person's investigation. Or maybe she was. But that's only because Lizzie Lovett's disappearance is the one fascinating mystery their sleepy town has ever had. Bad things don't happen to popular girls like Lizzie Lovett, and Hawthorn is convinced she'll turn up at any moment-which means the time for speculation is now.

So Hawthorn comes up with her own theory for Lizzie's disappearance. A theory way too absurd to take seriously…at first. The more Hawthorn talks, the more she believes. And what better way to collect evidence than to immerse herself in Lizzie's life? Like getting a job at the diner where Lizzie worked and hanging out with Lizzie's boyfriend. After all, it's not as if he killed her-or did he?
5. Freeks by Amanda Hocking
Release Date: January 3, 2017
Welcome to Gideon Davorin's Traveling Sideshow, where necromancy, magical visions, and pyrokinesis are more than just part of the act…Mara has always longed for a normal life in a normal town where no one has the ability to levitate or predict the future. Instead, she roams from place to place, cleaning the tiger cage while her friends perform supernatural feats every night. When the struggling sideshow is miraculously offered the money they need if they set up camp in Caudry, Louisiana, Mara meets local-boy Gabe…and a normal life has never been more appealing.

But before long, performers begin disappearing and bodes are found mauled by an invisible beast. Mara realizes that there's a sinister presence lurking in the town with its sights set on getting rid of the sideshow freeks. In order to unravel the truth before the attacker kills everyone Mara holds dear, she has seven days to take control of a power she didn't know she was capable of—one that could change her future forever.
6. The Last Harvest by Kim Liggett
Release Date: January 10, 2017
"I plead the blood."


Those were the last words seventeen-year-old golden boy quarterback Clay Tate heard rattling from his dad's throat when he discovered him dying on the barn floor of the Neely Cattle Ranch, clutching a crucifix to his chest.

Now, on the first anniversary of the Midland, Oklahoma slaughter, the whole town's looking at Clay like he might be next to go over the edge. Clay wants to forget the past, but the sons and daughters of the Preservation Society—a group of prominent farmers his dad accused of devil worship—won't leave him alone. Including Ali, his longtime crush, who suddenly wants to reignite their romance after a year of silence, and hated rival Tyler Neely, who's behaving like they're old friends.

Even as Clay tries to reassure himself, creepy glances turn to sinister stares and strange coincidences build to gruesome rituals—but when he can never prove that any of it happened, Clay worries he might be following his dad down the path to insanity…or that something far more terrifying lies in wait around the corner.
7. To Catch a Killer by Sheryl Scarborough
Release Date: February 7, 2017
Erin Blake has one of those names. A name that, like Natalee Holloway or Elizabeth Smart, is inextricably linked to a grisly crime. As a toddler, Erin survived for three days alongside the corpse of her murdered mother, and the case—which remains unsolved—fascinated a nation. Her father's identity unknown, Erin was taken in by her mother's best friend and has become a relatively normal teen in spite of the looming questions about her past.

Fourteen years later, Erin is once again at the center of a brutal homicide when she finds the body of her biology teacher. When questioned by the police, Erin tells almost the whole truth, but never voices her suspicions that her mother's killer has struck again in order to protect the casework she's secretly doing on her own.

Inspired by her uncle, an FBI agent, Erin has ramped up her forensic hobby into a full-blown cold-case investigation. This new murder makes her certain she's close to the truth, but when all the evidence starts to point the authorities straight to Erin, she turns to her longtime crush (and fellow suspect) Journey Michaels to help her crack the case before it's too late.
8. The Bone Witch by Rin Chupeco
Release Date: March 7, 2017
When Tea accidentally resurrects her brother from the dead, she learns she is different from the other witches in her family. Her gift for necromancy means that she's a bone witch, a title that makes her feared and ostracized by her community. But Tea finds solace and guidance with an older, wiser bone witch, who takes Tea and her brother to another land for training.

In her new home, Tea puts all her energy into becoming an asha — one who can wield elemental magic. But dark forces are approaching quickly, and in the face of danger, Tea will have to overcome her obstacles…and make a powerful choice.
Release Date: March 28, 2017
Seeing is believing, and believing is seeing… London in the year 1890 is smitten with the dark and the curious. Nothing fazes sixteen-year-old Willow Winchester. Not only has she been raised as "Will" instead of "Willow" since her mother's disappearance, a simple ruse and one that makes life a lot easier most of the time, but for as long as she can remember she's been the indiscriminate witness to the extracurricular goings-on of what she calls the Missing—ghosts. But no one has ever treated it like a good thing until the Black Cross Ministry of Mysterious Occurrences. After accidentally interrupting a Black Cross ghost hunt, Willow takes up the investigators' offer to work with them, keeping peace between London's living and dead. In pursuit of a purpose for her supernatural gifts … and whatever the Black Cross knows about her estranged mother … Willow learns to investigate hauntings with a patchwork team who quickly become her new family. But some of the dead aren't just Missing—they're the spirits of murder victims, and they're missing from public records, too! Together with her teammates, Willow struggles to piece together clues in the victims' memories. But can they discover the villain's identity in time to stop him before Willow falls right into his hands, herself?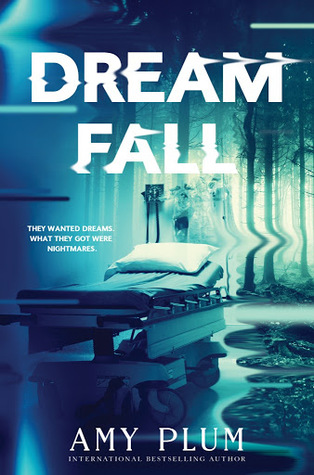 10. Dreamfall by Amy Plum
Release Date: May 2 2017
A radical experiment to cure chronic insomnia goes wrong, and its seven teenage test subjects are plunged into a shared coma populated by one another's nightmares; those who die in the dream will also die in real life.
11. Dream by Cory Putman Oakes
Release Date: July 18, 2017
When sixteen-year-old Macie O'Sullivan and her masterfully manipulative mother Aubra arrive at the gates of Witchtown—the most famous and mysterious witch-only haven in the world—they have one goal in mind: to rob it for all it's worth. But that plan derails when Macie and Aubra start to dig deeper into Witchtown's history and uncover that there is more to the quirky haven than meets the eye. Exploring the haven by herself, Macie finds that secrets are worth more than money in Witchtown. Secrets have their own power.
12. Spellbook of the Lost and Found by Moïra Fowley-Doyle
Release Date: August 8, 2017
One stormy Irish summer night, Olive and her best friend, Rose, begin to lose things. It starts with simple items like hair clips and jewellery, but soon it's clear that Rose has lost something much bigger, something she won't talk about, and Olive thinks her friend is slipping away.

Then seductive diary pages begin to appear all over town, and Olive meets three mysterious strangers: Ivy, Hazel and her twin brother, Rowan, secretly squatting in an abandoned housing estate. The trio are wild and alluring, but they seem lost too – and like Rose, they're holding tight to their secrets.

When they discover the spellbook, it changes everything. Damp, tattered and ancient, it's full of hand-inked charms to conjure back things that have been lost. It just might be their chance to find what they need to set everything back to rights. Unless it's leading them towards secrets that were never meant to be found . . .
Are you looking forward to any of these books? Are there any future horror/paranormal/thriller books you're looking forward to not on the list? Let's talk in the comments!