Last year for October Fright I spotlighted some of my favorite witchy reads. This year I wanted to go a little more in depth when it came to picking a monster to feature. I know by now many people are probably tired of the zombie genre and there are times that even I feel that the undead's fifteen minutes of fame is over, but there are a lot of fun (can I use the word fun?) and exciting zombie books, movies, and shows worth checking out. Here is a look at my zombie recommendations for the novice or seasoned zombie watcher. Covers are linked to Goodreads.
Favorite Zombie Reads:
1. The Zombie Survival Guide by Max Brooks
"The Zombie Survival Guide is your key to survival against the hordes of undead who may be stalking you right now. Fully illustrated and exhaustively comprehensive, this book covers everything you need to know, including how to understand zombie physiology and behavior, the most effective defense tactics and weaponry, ways to outfit your home for a long siege, and how to survive and adapt in any territory or terrain."
2. Rot & Ruin by Jonathan Maberry
"In the zombie-infested, post-apocalyptic America where Benny Imura lives, every teenager must find a job by the time they turn fifteen or get their rations cut in half. Benny doesn't want to apprentice as a zombie hunter with his boring older brother Tom, but he has no choice. He expects a tedious job whacking zoms for cash, but what he gets is a vocation that will teach him what it means to be human."
3. This Is Not a Test by Courtney Summers
"It's the end of the world. Six students have taken cover in Cortege High but shelter is little comfort when the dead outside won't stop pounding on the doors. One bite is all it takes to kill a person and bring them back as a monstrous version of their former self. To Sloane Price, that doesn't sound so bad. Six months ago, her world collapsed and since then, she's failed to find a reason to keep going. Now seems like the perfect time to give up. As Sloane eagerly waits for the barricades to fall, she's forced to witness the apocalypse through the eyes of five people who actually want to live. But as the days crawl by, the motivations for survival change in startling ways and soon the group's fate is determined less and less by what's happening outside and more and more by the unpredictable and violent bids for life—and death—inside. When everything is gone, what do you hold on to?"
4. Pride and Prejudice and Zombies by Jane Austen and Seth Grahame-Smith
""It is a truth universally acknowledged that a zombie in possession of brains must be in want of more brains."

So begins Pride and Prejudice and Zombies, an expanded edition of the beloved Jane Austen novel featuring all-new scenes of bone-crunching zombie mayhem. As our story opens, a mysterious plague has fallen upon the quiet English village of Meryton—& the dead are returning to life! Feisty heroine Elizabeth Bennet is determined to wipe out the zombie menace, but she's soon distracted by the arrival of the haughty & arrogant Mr. Darcy. What ensues is a delightful comedy of manners with plenty of civilized sparring between the two young lovers—& even more violent sparring on the blood-soaked battlefield as Elizabeth wages war against hordes of flesh-eating undead. Can she vanquish the spawn of Satan? And overcome the social prejudices of the class-conscious landed gentry? Complete with romance, heartbreak, swordfights, cannibalism & thousands of rotting corpses, Pride and Prejudice and Zombies transforms a masterpiece of world literature into something you'd actually want to read."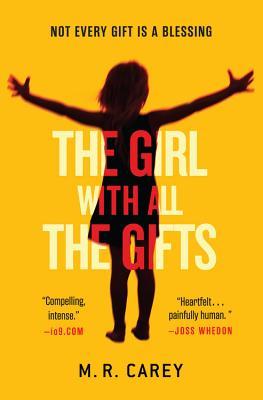 5. The Girl with All the Gifts by M. R. Carey
"Melanie is a very special girl. Dr Caldwell calls her "our little genius."

Every morning, Melanie waits in her cell to be collected for class. When they come for her, Sergeant Parks keeps his gun pointing at her while two of his people strap her into the wheelchair. She thinks they don't like her. She jokes that she won't bite, but they don't laugh.

Melanie loves school. She loves learning about spelling and sums and the world outside the classroom and the children's cells. She tells her favorite teacher all the things she'll do when she grows up. Melanie doesn't know why this makes Miss Justineau look sad."
Favorite Zombie T.V. Shows:

1. The Walking Dead (AMC) – Of course I'm going to mention The Walking Dead. I've been a fan of this show from the beginning. I feel like I've been through so much with these characters. I also want to say that I do think the earlier seasons were better. My favorite characters are Michonne, Carol, and Carl. If I was starting my own zombie apocalypse team, these three would be on it. If you're interested, I believe all aired seasons are currently on Netflix. I'm not a huge fan of the spinoff Fear the Walking Dead, which is why I'm not listing it. Everyone seems to be getting on my nerves in that one, so now I'm just watching it as background noise while I blog.


2. iZombie (CW) – If you're looking for a different take on zombies, I'd recommend watching iZombie. Liv is just like any other living human…except that she craves brains and a single scratch from her can turn you into a zombie. Using the visions from the brains she eats (she also takes on the personality of whomever she eats, which can really fun), Liv helps solve murders. Not convinced yet? This show is also from the creator of Veronica Mars. Watch it! This show is also on Netflix.
Zombie Movies Worth Watching:
1. Night of the Living Dead (1986) – When making a list like this, you simply have to mention the original George A. Romero film Night of the Living Dead. If classics are your thing or you're not much for blood and gore, I recommend reaching for this one.
2. 28 Days Later – Probably the scariest of the zombie movies I'm listing, 28 Days Later is sure to make you feel like your whole world was turned upside down. Technically the movie never uses the word 'zombie' when describing just what kind of infection is happening, but I think it's pretty safe to consider this one a zombie movie.
3. Zombieland – Because there is nothing wrong with having a little fun when it comes to zombies, I'd recommend watching Zombieland, which combines the terror of trying to survive the zombie apocalypse with a bit of humor. Also, if you don't want a twinkie after watch this movie, there is something wrong with you.
4. World War Z – As far as movie adaptations go, this is probably among the worst. I'm not even sure the writers of this one even read the book. But as far as entertaining movies go, this one isn't half bad. So if you're looking to shut off your brain awhile (no pun intended) and just enjoy a few zombie thrills, look no further than World War Z.
Are you a fan of the zombie genre? Do you have any favorite zombie books, shows, or movies? Are you a fan of anything on my list? Let's talk in the comments!