Yes, it's October, and I'm ready to dive into some pretty spooktacular reads. This year I have a variety of books to choose from, some I missed out on last year and a few new releases that have caught my eye. I'm listing ten books for this particular TBR, which is a number that I think is pretty doable (this is a lie, there is no way I'm getting to all of these). If you're looking for a frightening read to add to your own TBR this October, I hope you find something to add from my list. Covers are linked to Goodreads.
1. The Merciless by Danielle Vega
      "Brooklyn Stevens sits in a pool of her own blood, tied up and gagged. No one outside of these dank basement walls knows she's here. No one can hear her scream.
      Sofia Flores knows she shouldn't have gotten involved. When she befriended Riley, Grace, and Alexis on her first day at school, she admired them, with their perfect hair and their good-girl ways. They said they wanted to save Brooklyn. They wanted to help her. Sofia didn't realize they believed Brooklyn was possessed.
      Now, Riley and the girls are performing an exorcism on Brooklyn—but their idea of an exorcism is closer to torture than salvation. All Sofia wants is to get out of this house. But there is no way out. Sofia can't go against the other girls . . . unless she wants to be next. . . ."
2. A Madness So Discreet by Mindy McGinnis

      "Grace Mae knows madness.
      She keeps it locked away, along with her voice, trapped deep inside a brilliant mind that cannot forget horrific family secrets. Those secrets, along with the bulge in her belly, land her in a Boston insane asylum.
      When her voice returns in a burst of violence, Grace is banished to the dark cellars, where her mind is discovered by a visiting doctor who dabbles in the new study of criminal psychology. With her keen eyes and sharp memory, Grace will make the perfect assistant at crime scenes. Escaping from Boston to the safety of an ethical Ohio asylum, Grace finds friendship and hope, hints of a life she should have had. But gruesome nights bring Grace and the doctor into the circle of a killer who stalks young women. Grace, continuing to operate under the cloak of madness, must hunt a murderer while she confronts the demons in her own past."
3. The Dead House by Dawn Kurtagich
      "Two decades have passed since an inferno swept through Elmbridge High, claiming the lives of three teenagers and causing one student, Carly Johnson, to disappear. The main suspect: Kaitlyn, 'the girl of nowhere.'
      Kaitlyn's diary, discovered in the ruins of Elmbridge High, reveals the thoughts of a disturbed mind. Its charred pages tell a sinister version of events that took place that tragic night, and the girl of nowhere is caught in the center of it all. But many claim Kaitlyn doesn't exist, and in a way, she doesn't – because she is the alter ego of Carly Johnson.
      Carly gets the day. Kaitlyn has the night. It's during the night that a mystery surrounding the Dead House unravels and a dark, twisted magic ruins the lives of each student that dares touch it."
4. The Cellar by Natasha Preston
      "Nothing ever happens in the town of Long Thorpe – that is, until sixteen-year-old Summer Robinson disappears without a trace. No family or police investigation can track her down. Spending months inside the cellar of her kidnapper with several other girls, Summer learns of Colin's abusive past, and his thoughts of his victims being his family…his perfect, pure flowers. But flowers can't survive long cut off from the sun, and time is running out…. "
5. Between the Devil and the Deep Blue Sea by April Genevieve Tucholke
      "Nothing much exciting rolls through Violet White's sleepy, seaside town… until River West comes along. River rents the guesthouse behind Violet's crumbling estate, and as eerie, grim things start to happen, Violet begins to wonder about the boy living in her backyard. Is River just a crooked-smiling liar with pretty eyes and a mysterious past? Or could he be something more? Violet's grandmother always warned her about the Devil, but she never said he could be a dark-haired boy who takes naps in the sun, who likes coffee, who kisses you in a cemetery…who makes you want to kiss back. Violet's already so knee-deep in love, she can't see straight. And that's just how River likes it."
6. How to Hang a Witch by Adriana Mather
      "Salem, Massachusetts is the site of the infamous witch trials and the new home of Samantha Mather. Recently transplanted from New York City, Sam and her stepmother are not exactly welcomed with open arms. Sam is the descendant of Cotton Mather, one of the men responsible for those trials and almost immediately, she becomes the enemy of a group of girls who call themselves The Descendants. And guess who their ancestors were?

      If dealing with that weren't enough, Sam also comes face to face with a real live (well technically dead) ghost. A handsome, angry ghost who wants Sam to stop touching his stuff. But soon Sam discovers she is at the center of a centuries old curse affecting anyone with ties to the trials. Sam must come to terms with the ghost and find a way to work with The Descendants to stop a deadly cycle that has been going on since the first accused witch was hanged. If any town should have learned its lesson, it's Salem. But history may be about to repeat itself."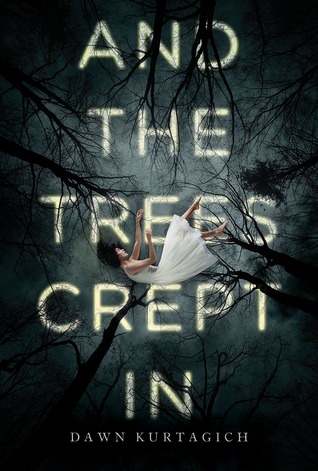 7. And the Trees Crept In by Dawn Kurtagich
      "When Silla and Nori arrive at their aunt's home, it's immediately clear that the "blood manor" is cursed. The creaking of the house and the stillness of the woods surrounding them would be enough of a sign, but there are secrets too–the questions that Silla can't ignore: Who is the beautiful boy that's appeared from the woods? Who is the man that her little sister sees, but no one else? And why does it seem that, ever since they arrived, the trees have been creeping closer?"
8. The Women in the Walls by Amy Lukavics
      "Lucy Acosta's mother died when she was three. Growing up in a Victorian mansion in the middle of the woods with her cold, distant father, she explored the dark hallways of the estate with her cousin, Margaret. They're inseparable—a family.

      When her aunt Penelope, the only mother she's ever known, tragically disappears while walking in the woods surrounding their estate, Lucy finds herself devastated and alone. Margaret has been spending a lot of time in the attic. She claims she can hear her dead mother's voice whispering from the walls. Emotionally shut out by her father, Lucy watches helplessly as her cousin's sanity slowly unravels. But when she begins hearing voices herself, Lucy finds herself confronting an ancient and deadly legacy that has marked the women in her family for generations."
9. Fear the Drowning Deep by Sarah Glenn Marsh
      "Witch's apprentice Bridey Corkill has hated the ocean ever since she watched her granddad dive in and drown with a smile on his face. So when a dead girl rolls in with the tide in the summer of 1913, sixteen-year-old Bridey suspects that whatever compelled her granddad to leap into the sea has made its return to the Isle of Man.


      Soon, villagers are vanishing in the night, but no one shares Bridey's suspicions about the sea. No one but the island's witch, who isn't as frightening as she first appears, and the handsome dark-haired lad Bridey rescues from a grim and watery fate. The cause of the deep gashes in Fynn's stomach and his lost memories are, like the recent disappearances, a mystery well-guarded by the sea. In exchange for saving his life, Fynn teaches Bridey to master her fear of the water — stealing her heart in the process.


      Now, Bridey must work with the Isle's eccentric witch and the boy she isn't sure she can trust — because if she can't uncover the truth about the ancient evil in the water, everyone she loves will walk into the sea, never to return."
10. Yesternight by Cat Wintere

      "In 1925, Alice Lind steps off a train in the rain-soaked coastal hamlet of Gordon Bay, Oregon. There, she expects to do nothing more difficult than administer IQ tests to a group of rural schoolchildren. A trained psychologist, Alice believes mysteries of the mind can be unlocked scientifically, but now her views are about to be challenged by one curious child.
      Seven-year-old Janie O'Daire is a mathematical genius, which is surprising. But what is disturbing are the stories she tells: that her name was once Violet, she grew up in Kansas decades earlier, and she drowned at age nineteen. Alice delves into these stories, at first believing they're no more than the product of the girl's vast imagination. But, slowly, Alice comes to the realization that Janie might indeed be telling a strange truth.
      Alice knows the investigation may endanger her already shaky professional reputation, and as a woman in a field dominated by men she has no room for mistakes. But she is unprepared for the ways it will illuminate terrifying mysteries within her own past, and in the process, irrevocably change her life."
Have you read any of these books or are you planning to? Which spooky reads are you looking forward to reading this October? Let me know in the comments!
Giveaway Alert: If you haven't entered my giveaway (US only) for an ARC of One Was Lost by Natalie D. Richards, you can do so here.