Aside from a couple of personal mishaps, September was a very enjoyable month. I took a week off from blogging for the first time since I became a blogger. Because I like to over-prepare, I ended up starting early on all my October posts, so it looks like this following month is going to be pretty stress-free in terms of blog posts. I read seven books this month (I'm counting the one I'm currently reading because I'm so close to being done), including a reread of one of my favorite books (Six of Crows!).
(Book covers below are linked to my reviews, unless otherwise specified.)
Favorite Book This Month: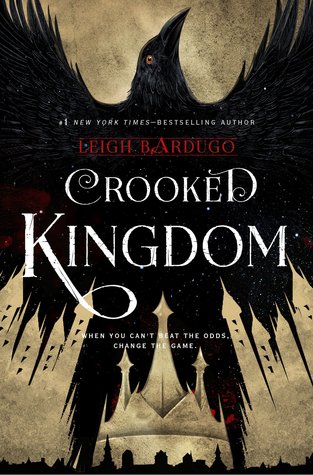 Leigh Bardugo's Crooked Kingdom! Leigh Bardugo's Crooked Kingdom! Technically I'm not finished with this one, but I'm so close and I can guarantee it's going to get a high rating. I can't say much because I detest spoilers, but this is so so so good. Review will be up soon. Cover is linked to Goodreads.
Least Favorite Book This Month:
It breaks my heart to say that Emery Lord's newest release When We Collided was my least favorite read this month. I've been on such a contemporary kick lately and I don't know if I'm just waning down from the high, but this book just didn't do it for me. I will have a full review of this one up in October (though I may have to push it back to November). Cover is linked to Goodreads.
Other Reviews Posted This Month:
Books Read But Not Reviewed Yet:
Expect reviews for these books to go up in October. Covers below are linked to Goodreads.
Favorite Blog Meme Posts This Month:
This month my favorite blog meme topic was Top Ten Tuesday: Ten Binge-Worthy Shows on Netflix. It's always fun to talk about interests outside of books and here is a list of some of my favorite shows.
Other Notable Posts/Updates This Month:
Kernels of Nonsense: Blog Hiatus Announcement: Early in the month I announced that I was going on a blog hiatus for a week. Here are my thoughts on why and the like.
Kernels of Nonsense: In Celebration of Hispanic Heritage Month: September 15th marked the start of Hispanic Heritage Month and in this post I recommend some of my favorite books by Latinx authors.
2016 Third Quarter Book Haul: Did I Show Shelf-Control?: How many books have I bought during the last three months? Take a look at my post here to see which books I've added to my library.
Reading Challenges:
I've had very little progress in my reading challenges lately, so I'm including a little update for them in my wrap-up post instead of making a separate post.
1. The 2016 Debut Author Challenge is hosted by That Artsy Reader Girl. This month I read debut novel Iron Cast by Destiny Soria. It was really good and I cannot wait to share my full review of it.
Challenge Goal: 12 books; Overall Progress: 9 books
2. The 2016 Read My Books Challenge is hosted by The Worn Bookmark. I read Crooked Kingdom by Leigh Bardugo from my own library this month.
Challenge Goal: 30 books; Overall Progress: 23 books
3. The 2016 Finishing the Series Challenge is hosted by Bea's Book Nook. I finished the Six of Crows duology this month. Do duologies count? I've been counting them so far this year.
Challenge Goal: 7 series; Overall Progress: 6
Things I'm Looking Forward to in October:
October Fright – I'm so stoked about October. I'm a big fan of Halloween and in honor of the holiday, I like to put together some Halloween-themed posts for the month. The look of my blog will also change for the month, which I will be working on tonight.
October Releases I'm Excited For:
How was your September? Are you ready to say goodbye to summer and welcome a cooler fall? Any September releases you're particularly excited about? Let me hear from you in the comments and feel free to leave me a link to your own wrap-up post and I'll be sure to visit.