Top Ten Tuesday is an original blog meme hosted by The Broke and the Bookish. This week's topic is "In honor of Fall Tv, do a tv-themed topic! Top ten favorite tv shows of all time, ten new shows coming out this Fall that are on my radar, tv shows I wish never got cancelled, etc…" I always love it when we get a chance to talk about something other than books. This sounds strange coming from a bookworm, but it's nice to shake things up a bit. Here is a list of some of my favorite shows on Netflix that I recommend you binge-watch (I say some because I had to cut my list down quite a bit).
1. Psych – I don't think I've ever had so much fun watching a T.V. show. Exceptionally perceptive, Shawn Spencer pretends to be a psychic when he comes under suspicion by the police. Unable to resist the temptation, he creates Psych, a psychic detective agency and recruits his best friend Gus. Hilarity ensues and really, I don't think any other actors have as much chemistry as these two. Bonus points for Gus being a Potterhead.
2. Parks and Recreations – Leslie Knope is the kind of best friend you wish you had. She's incredibly enthusiastic, sticks to her principles, and is just a really wonderful person to be around. If you're looking for a comedy in the vein of The Office (also featured below), Parks and Rec is for you. Bonus points for Leslie also being a Potterhead.
3. Miss Fisher's Murder Mysteries – This is based on a book series and while I've never read them, I think this TV series is just so charming. Phryne Fisher is a woman detective in the 1920s and she is all kinds of amazing. Don't even get me started on the chemistry between her and Inspector Jack Robinson. Bonus points for featuring an older single protagonist and not painting her as a spinster.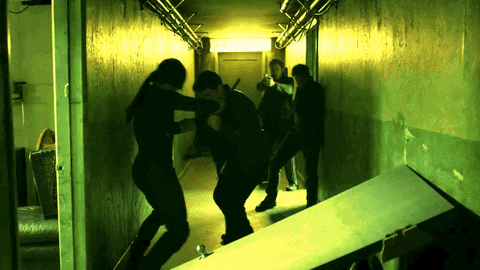 4. Daredevil – I loved the first season of this superhero origin series. I especially loved the villain, so complex! I actually haven't had time to watch the second season, but I hear it really doesn't compare to the first. Bonus points for this hallway fight scene.
5. Jessica Jones – If you're looking for an antihero and a more gritty superhero show, this is the one for you. Jessica Jones is everything you wouldn't expect from a superhero and I suppose you could argue that it's not necessarily a superhero show to begin with, but an exploration of a person who's gone through the unthinkable and still manages to find something to fight for. Bonus points for featuring one of the strongest female friendships I've seen.
6. Fringe – Ah, Fringe, how I miss you. Besides the wonderful Olivia and Peter, there is the incomparable Walter Bishop. A little crazy, but also brilliant, Walter is really the heart of this science-fiction show and I just miss him so very much. Bonus points for the musical/noir episode Brown Betty, everything about it was magnificent.
7. The Office – This show features one of my very first OTPs. I spent a lot of time wishing and hoping for Jim and Pam to get together and it was torture, but I loved it. Everyone in this show is hilarious and Michael Scott, like he said, you'll be afraid of how much you love him in the end. Bonus points for a slow-burn romance, which is my favorite.
8. iZombie – What, another zombie show? Yes, but this one is actually a comedy. Liv wakes up in a body bag only to discover she has a craving for brains. Using the visions she has when she consumes a brain, she helps solve murders. Also, if you miss Veronica Mars, this show is from Rob Thomas. Bonus points for actually including the line "A long time ago, we used to be friends." 9. Jane the Virgin – Protagonist is accidentally artificially inseminated and ends up pregnant even though she's never had sex? Sounds very soap opera-y. Well, yes, this show is actually based on a telenovela and it is golden. It features some incredibly strong female relationships and at one point I actually think I started shipping a friendship between two women more than any romantic pair on the show. Bonus points for making me love a character I initially hated.
10. Stranger Things – My most recent binge and oh my gosh, it was fantastic! It's creepy, it's funny, and even made me cry. But I warn you, there is no defense when it comes to protecting your heart from the child characters in this one. I'm in love with every one of them. Bonus points for that 80s Goonies/E.T. vibe it's got going on.
Are you a fan of any of these shows? What show would you like to see on Netflix next so you can binge watch it? Let me know in the comments and be sure leave a link to your own TTT post, so I can visit.