Was it me or did July literally fly by? I swear it was June last week and now it's already August. This month I had the pleasure of picking up seven books, most of which were four-star reads, so that was awesome. This is the final month for the Comment Challenge I'm cohosting with Lonna @ FLYLēF. It's been a blast and we're hoping to bring back this challenge again soon, so if you didn't get a chance to join, there will be an opportunity in the near future.
(Book covers below are linked to my reviews, unless otherwise specified.)
Favorite Book This Month: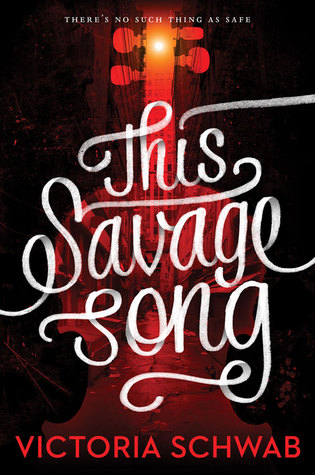 This month my favorite read was Victoria Schwab's This Savage Song. It was one of those books where I screamed "Give me more!" at the end of it.
Least Favorite Book This Month:
No book this month received less than three stars.
Other Reviews Posted This Month:
This month's set of mini reviews included Lisa Brown Roberts' How (Not) to Fall in Love and Rachel McMillan's The Bachelor Girls Guide to Murder. You can check out my thoughts on both here.
Books Read But Not Reviewed Yet:
Expect reviews for these books to go up in August. Covers below are linked to Goodreads.
Potterhead July Post: 
Potterhead July was hosted by Aentee @ Read at Midnight. Bloggers from all over wrote HP appreciation posts in anticipation of the release of Harry Potter and the Cursed Child. I wrote an in depth discussion post on Ginny Weasley, who I've always felt was a highly underrated character. I'm really proud of this post, it took me about forever to put together, but it was well worth it. You can check out my post here: Potterhead July – Ginny Weasley: An Exposition.
Favorite Blog Meme Posts This Month:
I really enjoyed this month's topics for the Top Ten Tuesday meme, so I actually had a hard time choosing. So I'm listing a couple of them that I loved putting together.
Top Ten Tuesday: Ten Nerdy, Random, Bookish, and Non-Bookish Facts About Me
Top Ten Tuesday: Ten Occupations I Wouldn't Mind Having If I Was a Character in a Novel
Other Notable Posts This Month:
Epic Reads Book Tag – I was tagged by Nicka @ Readbynicka to do this tag and had a lovely time answering the questions included.
4th Annual ARC August Sign-Up Post – This is my second year participating in this challenge and I am really excited for the titles I have lined up for the month.
July '16: Reading Challenges Recap – A little progress report on my reading challenges so far.
Things I'm Looking Forward to in August:
The Comment Challenge – This is the final month for the Summer Comment Challenge, co-hosted by Lonna @ FLYLēF and myself. This month I have the pleasure of being partnered with Cassidy @ Quartzfeather and Arnis @ poseidons99. Hoping to comment lots and lots on your blogs this August!
August Releases I Have My Eye On:
How was your July? Any new releases you're raving about? What was your favorite read of the month? Let me hear from you in the comments and feel free to leave me a link to your own wrap-up post and I'll be sure to visit.