This month I read eight books, including one reread (do you ever have those times when everything is just moving so quickly, you need to take a few days with a favorite book?). Lonna @ FLYLēF and I are in the midst of the Comment Challenge we created for the summer and it's going really well. If you haven't joined and would like to, details are below. I got some amazing book mail this month, including a few ARCs I won from ArmchairBEA back in May, which is all kinds of awesome. I also did a bit of a book unhaul with my shelves. How is it I run out of room so quickly? I now have a big box I need to take to my library to donate. I did my second book haul of the year and it was a doozy. I'm actually contemplating a book buying ban until October. Scary stuff. Overall, June was a really good month, but my goodness, it's been hot!
(Book covers below are linked to my reviews, unless otherwise specified.)
Favorite Book This Month: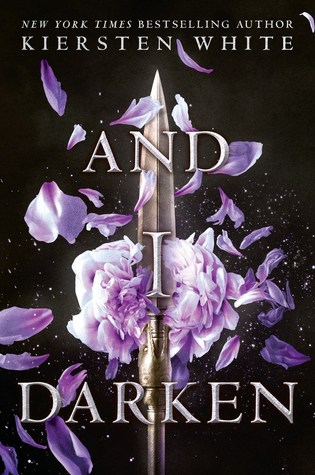 Kiersten White's And I Darken was quite the surprise. I did not expect to like it as much as I did, it's so different and dark, and the protagonist might be an extremely problematic character, but I loved her anyways.
Least Favorite Book This Month: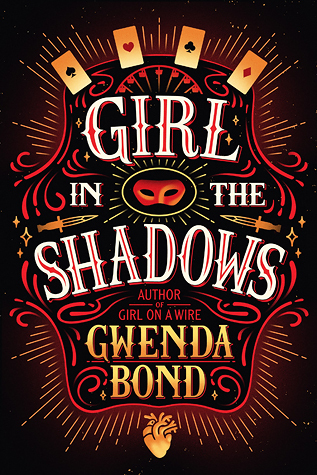 I requested Gwenda Bond's Girl in the Shadows on a whim on NetGalley not too long ago and even though it's part of a series that I haven't read, this was sort of like a standalone. Unfortunately, I did not fall in love with this one. The characters and overall development of the plot just never did it for me. My review for this one should be up tomorrow. Cover above is linked to Goodreads.
Other Reviews Posted This Month:
Mini Reviews:
I did another set of mini reviews this month for Daniel José Older's Shadowshaper and Rick Riordan's Sea of Monsters. You can read some quick thoughts I had on both here.
Books Read But Not Reviewed Yet:
There are several books I read this month that I didn't get a chance to post reviews for, but expect all these to have reviews go up on the blog in July. Covers below are linked to Goodreads.
Kernels of Nonsense:
Once again, I only got around to putting together one discussion post. This month, in reaction to the Twitter drama I've been coming across for the last couple of months, I wrote Kernels of Nonsense: The Perils of the Twitter Grapevine, where I discuss how I feel about the social media platform.
Favorite Blog Meme Posts This Month:
It's no secret that I'm absolutely in love with Maggie Stiefvater's The Raven Cycle, so I took the opportunity in Top Ten Tuesday: How Do I Love the Raven Cycle? Let Me Count the Ways to share some of the reasons why this is one of my favorite series.
Reading Challenges Recap:
So I decided not to do a Reading Challenges Recap post for this month because I only picked up a single book toward my goals. Instead, I thought I'd include it here. Maren @ The Worn Bookmark is hosting the Read My Books Challenge as a way for bloggers to read more of the books they own. This month I picked up The Steep & Thorny Way by Cat Winters, making my total number toward this goal 14 (my yearly goal is 30).
Other Notable Posts This Month:
Transatlantic Book Project: US Round One Recap – Take a look at the book project that's been in the works since last November. Two books are traveling around the US and UK to ten bloggers and each is taking the opportunity to read and annotate them.
2016 Second Quarter Book Haul – I stopped doing monthly book hauls in order to minimize my book buying and it really helped the first three months of the year, but the last three…well, I ended up with a lot of books.
Things I'm Looking Forward to in July:
The Comment Challenge – The final month to participate in the Comment Challenge, co-hosted by Lonna @ FLYLēF and myself approaches. In order to spread comment love and also challenge ourselves to be more active with comments, we are pairing bloggers together and for the whole month, partners will comment and engage on each other's blogs. If you'd like to sign up for August, head on over here. Sign-ups will be closing on the 21st of this month for August. For July, I have the privilege of having two comment partners. I will commenting on Nicka @ Readbynicka and Liam @ Panorama of the Mountains's blogs throughout the month and I'm all kinds of excited!
Aentee @ Read at Midnight is hosting Potterhead July, a blog festival dedicated to our favorite boy wizard and company. If you know anything about me, you know that I'm a huge Harry Potter fan. There's a huge number of posts going up during the month around the blogosphere. If you are interesting in taking a look, follow the Twitter #PotterheadJuly. My post will go up Monday, July 18th.
July Releases I'm Looking Forward To:
How was your June? What was your favorite read of the month? Let me hear from you in the comments and feel free to leave me a link to your own wrap-up post and I'll be sure to visit.