There were a couple of months where I was reading so much, I was convinced I had somehow learned to stop time and thus kept picking up book after book. But I knew it wasn't going to last, and so this month I'm back to reading an average amount of books, clocking in at seven. This is actually a pretty impressive number as I was convinced earlier in the month that I'd barely get to five. I'm cohosting the Comment Challenge this summer with Lonna @ FLYLēF and this month we introduced the feature to bloggers. I'm so glad so many decided to sign-up for June and if you are interested in joining us for July, the details are down below.
(Book covers below are linked to my reviews, unless otherwise specified.)
Favorite Book This Month: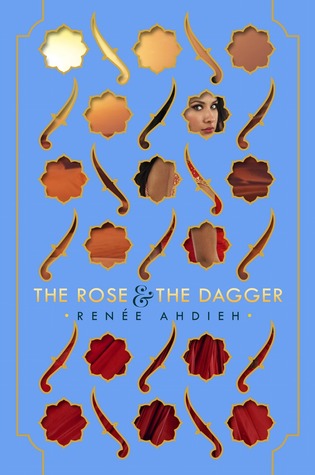 This month I finished Renée Ahdieh's The Rose & the Dagger, the second book in her The Wrath & the Dawn duology and really loved it. Aside from a few issues I had with the two books, it really is a great story and I'm sure I'll be picking up it again in the future.
Least Favorite Book This Month:
It's hard to complain when you don't rate a book less than three-stars throughout the month. Success!
Other Reviews Posted This Month:
Books Read But Not Reviewed Yet:
For some reason I have a ton of books I read this month that I didn't get a chance to post reviews for, but expect all these to have reviews go up on the blog in June. Covers below are linked to Goodreads.
Kernels of Nonsense:
Breaking up with an author is something really hard to do, but I finally found the need to do so with Sarah J. Maas. I know she's got such a large following and most can't get enough of her books, but she and I need to take a break from each other. If you're interested in finding out why, check out my discussion post: Kernels of Nonsense: When An Author Keeps Disappointing You.
Favorite Blog Meme Posts This Month:
Top Ten Tuesday: Ten Characters I'd Love to Revisit As Adults – Really enjoyed putting this list together because sometimes you just feel like you need the author to write a book ten years after books end just so you can see what the characters are up to.
Other Notable Posts This Month:
Armchair BEA – This was the first time I ever participated in Armchair BEA, an online conference for those unable to attend the book conference. It was tons of fun and I'm pretty sure I'll be taking part next year as well.
Things I'm Looking Forward to in June:
The Comment Challenge – Lonna @ FLYLēF and I introduced our challenge this month that runs all summer long. We're pairing bloggers together every month and asking them to challenge themselves to comment on each other's blogs. June sign-ups have already closed (the challenge is already underway for the month, my partner is Maggie @ The Novel Orange and I'm super excited to do this challenge with her!), but if you want to join us for July, you can sign-up here.
Summer 2016 Review Train: I've also joined a group of bloggers who will be reviewing summer reads this week and next week. It's hosted by Brittany @ Space Between the Spines, and if you are interested in checking out who is reviewing what and when, you can take a look here. At the end there is also a giveaway on Brittany's blog, so be sure to check that out as well. My post for this one will go up June 4th.
June Releases I'm Looking Forward To:
Did you participate in Armchair BEA? Did you attend BEA in Chicago? Tell me all about it! Are there any special challenges or blogger projects you're taking part in this summer? Let me hear from you in the comments and feel free to leave me a link to your own wrap-up post and I'll be sure to visit.