Like I predicted last month, my progress toward my reading challenges did slow down. During the first two weeks of May, I only managed to pick up two books (still can't explain how this happened). I also had a couple of deadlines come up, which meant I didn't get a chance to pick up a lot of books that would count toward these challenges. I've decided that I won't be putting a lot of pressure on myself this summer to work toward these numbers because once September rolls around (have you checked out all the new releases for this month alone?), there will be plenty of books to choose from for these challenges. Covers below are linked to my reviews.
~~~
2016 Debut Author Challenge:
2016 Goal: 12 books
Debut Books Read in May: 1
Overall Progress: 7
The 2016 Debut Author Challenge is hosted by That Artsy Reader Girl. This month I only read Cindy Anstey's debut Love, Lies and Spies. I wasn't sure if I should buy this novel because it was a debut, but I thought I'd give it a shot. It was good for the most part, but I think I would have liked it better if it was more focused on who the protagonist was and her interests rather than the romance. Also, does it bug anyone else that this book's title does not have an Oxford comma?
Debut Books Read This Month:
2016 Finishing the Series Challenge:
2016 Goal: 7 series
Series Finished in May: 1
Overall Progress: 5
The 2016 Finishing the Series Challenge is hosted by Bea's Book Nook. Still don't know if we're counting duologies toward this challenge's goal, but I've been counting them. I finished The Wrath & the Dawn duology this month and just really love how Renée Ahdieh writes this love story.
Books Read/Series Finished: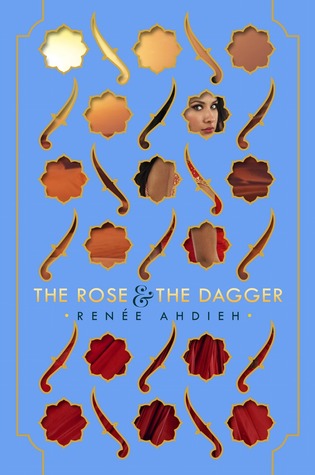 2016 Read My Books Challenge:
2016 Goal: 30 books
Number of My Books Read in May: 3
Overall Progress: 13
The 2016 Read My Books Challenge is hosted by The Worn Bookmark. I tried to take advantage of my library this month because sometimes I have moments where I worry if I read too many of my own books, I'll run out. It's a crazy fear and I know it's completely irrational, but still I panic. This month I picked up Cindy Antsey's Love, Lies and Spies, Renée Ahdieh's The Rose & the Dagger, and The Sea of Monsters by Rick Riordan from my own books.
Do you ever panic that you'll run out of books on your shelf to read? How do you feel about the Oxford comma? Feel free to leave a link to your own challenge recap post and I'll check it out.