I've never formally written any mini reviews on the blog before, mostly because I tend to review almost everything I read and concerning the books I choose not to, it's either because I haven't much to say or frankly, I'm just not in the mood to write one. This month was one of those rare occasions where I read and decide not to review more than one book. Since I planned to include something about each in my monthly wrap-up post, I thought I'd try my hand at a couple of mini reviews instead. One reason is that, unless you read my monthly wrap-up posts, you may not even notice I've read these books and I'd like the opportunity to share my thoughts with those who may not read them. Not sure if I'll make a habit of these mini reviews, but it's a nice option to have. Covers are linked to Goodreads.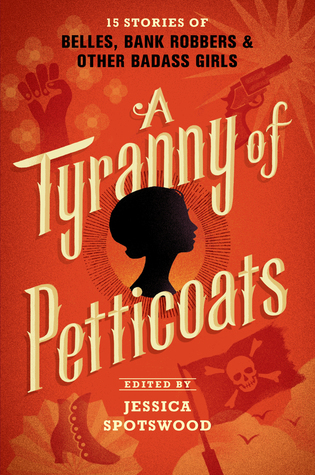 Title: A Tyranny of Petticoats
Author: Various, Edited by Jessica Spotswood
Series: N/A
Pages: 368
Publisher: Candlewick Press
Release Date: March 8th 2016 
      "From an impressive sisterhood of YA writers comes an edge-of-your-seat anthology of historical fiction and fantasy featuring a diverse array of daring heroines.
      Criss-cross America — on dogsleds and ships, stagecoaches and trains — from pirate ships off the coast of the Carolinas to the peace, love, and protests of 1960s Chicago. Join fifteen of today's most talented writers of young adult literature on a thrill ride through history with American girls charting their own course. They are monsters and mediums, bodyguards and barkeeps, screenwriters and schoolteachers, heiresses and hobos. They're making their own way in often-hostile lands, using every weapon in their arsenals, facing down murderers and marriage proposals. And they all have a story to tell."
"Folks around here like to say we came from the stars. Perhaps it's simpler to think of us not as human but as creatures made of stardust–that if you cut us, not blood but constellations will pour from our wounds."
I have a weird relationship with anthologies. On one hand, I love the idea of a collection of short stories by various authors, linked together by a common theme, but on the other, I never know how to approach reading one. Do I pause between stories? How many is too many to read in a day? Can I truly appreciate each story individually if I'm trying to read an entire anthology in only a few days? The last anthology I read was Slasher Girls & Monster Boys and I confess, I did find myself comparing A Tyranny of Petticoats to it. While I really appreciated how diverse A Tyranny of Petticoats was, not many of the stories stayed with me. My favorite was Leslye Walton's El Destinos, which imagines the Fates being reincarnated as young Mexican-American girls. Their story takes place a few years after the annexation of Texas and has that beautiful whimsical feel I've come to expect from the author. I'm a huge fan of Leslye Walton's The Strange and Beautiful Sorrows of Ava Lavender and this short story once again exhibits what a phenomenal writer she is. Quote above is taken from her short story.
Rating: 3/5
★★★
---
Title: Edenbrooke
Author: Julianne Donaldson
Series: N/A
Pages: 264
Publisher: Shadow Mountain
Release Date: March 27th 2012 
      "Marianne Daventry will do anything to escape the boredom of Bath and the amorous attentions of an unwanted suitor. So when an invitation arrives from her twin sister, Cecily, to join her at a sprawling country estate, she jumps at the chance. Thinking she'll be able to relax and enjoy her beloved English countryside while her sister snags the handsome heir of Edenbrooke, Marianne finds that even the best laid plans can go awry. From a terrifying run-in with a highwayman to a seemingly harmless flirtation, Marianne finds herself embroiled in an unexpected adventure filled with enough romance and intrigue to keep her mind racing. Will Marianne be able to rein in her traitorous heart, or will a mysterious stranger sweep her off her feet? Fate had something other than a relaxing summer in mind when it sent Marianne to Edenbrooke."
"I told myself that I would have plenty of time–an entire summer–to explore and enjoy this paradise. For that was exactly what it seemed to me. After more than a year in a cobblestone city, I felt like a bird that had just been released from a cage."
I picked up Edenbrooke by Julianne Donaldson because I was curious about it, having heard many good things and I wanted to dip into historical fiction more (still do, recommendations are always welcome!). It took forever for me to finally get my hands on a library copy. For such a popular book, there's only one copy available in the entire library county system my library is a part of. I initially planned to read this book over a three-day span, but didn't realize just how deep I'd fall into it (I ended up finishing it in a day). It's been a while since I read a book whose main focus is romance and I enjoyed it more than I thought I would. Edenbrooke is full of swoon-worthy moments any hopeless romantic would sigh over. My only complaint is that I was sometimes frustrated by the naiveté of the protagonist Marianne.
Rating: 4/5
★★★★