Oh, February. My reading took a bit of a hit this month as I only managed to pick up five books (really, I'm shocked I got to even that number). I was really busy and things just kept coming up and then toward the end of the month, I got sick for the first time this season (I was so confident that I had beaten this sick season!) which meant I spent several days not reading anything. I did participated in a really fun comment challenge with Lonna @ FLYLēF where we commented on each other's blogs all month long. It was a great way to engage with one another and we're now mulling over a few ideas regarding it. Next month I'm planning to really step up my reading game and get to a few ARCs I have piling up on my tablet.
(Book covers below are linked to my reviews unless otherwise specified.)
Favorite Book This Month: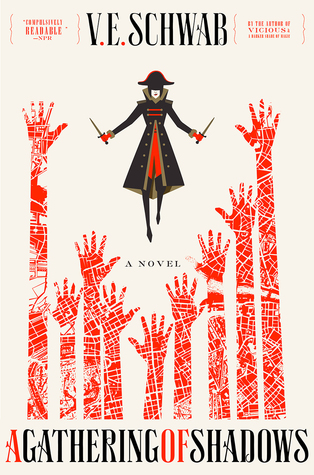 I still haven't picked up a five-star book this year, but V.E. Schwab's A Gathering of Shadows came very close (so close). I am continually in awe of what an amazing writer Schwab is, but what do you mean I have to wait another year for the next book? My review for this one will be up next week. Cover above is linked to Goodreads.
Least Favorite Book This Month:
Once again, I didn't pick up any books this month that rated under three stars.
Reviews Posted This Month: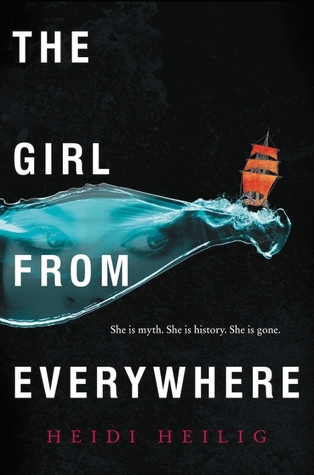 Read But Not Reviewed (Yet):
I really enjoyed Heidi Heilig's The Girl from Everywhere. As far as debuts go, it's a really good start to an interesting series. I haven't posted my review of this one yet (expect it this Wednesday or Thursday), but if you're curious to know how I rated it, I gave it four out of five stars.
2016 Reading Challenges:
I did loads better than last month and it finally feels like I might actually have a shot at meeting all of my goals by the end of the year. I'll have my recap post up later this week.
Kernels of Nonsense:
This month I did a discussion post on shipping in honor of Valentine's Day (Kernels of Nonsense: A Bookish [and not-so bookish] Valentine's) and I also did a post discussing why I tend to shy away from readathons (Kernels of Nonsense: Readathons or Stressathons?).
Favorite Blog Meme Posts This Month:
I really had fun putting together Top Ten Tuesday: Music for Fans of Magical Realism where I listed music that I thought fans of the genre would enjoy.
Things I'm Looking Forward to in March:
Monthly TBR: I decided that this month I'm not going to do a monthly TBR. I'm experiencing a little apprehension over doing these lists as I'm never sure which books I'll be able to get from the library and I don't know what books I may or may not be in the mood for when the time comes to pick up a new book. This month I want to give myself a whole lot of freedom and at the end of the month I'll have to decide if I'm going to do away with these posts for good.
ARCs: I have somehow managed to accumulate far too many ARCs. Read.Sleep.Repeat. will be hosting an ARC April for those interested in finally getting through all the ARCs they have. I'm not sure I can wait, so I'll be reading at least two this month.
New Releases: The Winner's Kiss by Marie Rutkoski is coming out at the end of the month and I cannot be more excited about it!
Spring Week Long Bloggiesta: I haven't decided if I'm going to participate in this Bloggiesta yet. I would really like to, but I just might pass this time around.

How was your blogging month? Did you get to a lot of books in February? Any March releases you're excited about? Let me hear from you in the comments and feel free to leave me a link to your own wrap-up post and I'll be sure to visit.