I had one of those rare, quiet Januarys. I read seven books this month (or nearly), the majority of which came from my library. As a result of my book buying ban this month, I ended up visiting my library more than usual. Speaking of my book buying ban, it's officially over. I've been eyeing a certain book, but I might just put off buying it until after I read a few reviews. I'm off to a rather slow start for my reading challenges this year, but I'm kind of okay with that. A few interesting things happened in the blogging community this month, scroll down to my discussion posts (Kernels of Nonsense) for more info. I'm still waiting for my first five-star read of the year, I don't think I've ever gone this long into the new year without picking one up.
(Book covers below are linked to my reviews unless otherwise specified.)
Favorite Book This Month: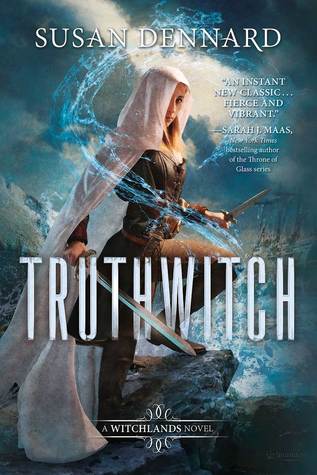 Hyped books always make me so nervous, so I elected to check out Susan Dennard's Truthwitch from the library rather than purchase it and in one of those rare occasions, I actually ended up loving it. My review for this one will be up on the blog at the end of this week, so be sure to look for that. Cover above is linked to Goodreads.
Least Favorite Book This Month:
I didn't pick up any books this month that rated under three stars, always a plus.
Reviews This Month:
Read But Not Reviewed: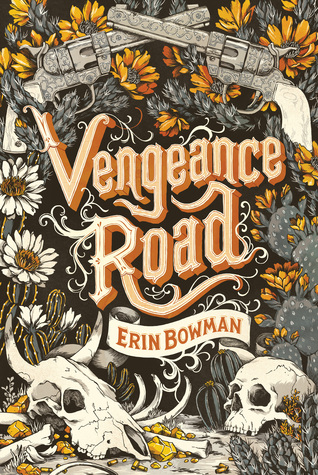 Erin Bowman's Vengeance Road was my final read this month. I technically have about fifty pages left in the book, but I'm counting it toward my January reads anyway. What do you do about books you start in one month but finish in another? I'll probably skip of review of this one because it's a new year and one of the things I'm working on is not forcing myself to write a review if I'm not in the mood. Here are a few thoughts I have for this one: It's about a girl seeking revenge on the men you killed her father. I absolutely love the protagonist Kate, she's rough and determined and more than a little reckless. The protagonist's voice immediate draws you in. The story is dangerous, exciting, and very fast-paced. I've never been particularly fond of Westerns, but this one may have just changed my mind about the genre.
2016 Reading Challenges:
January Recap: This month I only managed to pick up one book toward the three challenges I'm taking part in this year. Not a very big number, but it did count for two of my challenges so that's a plus. Hopefully I'll be able to do more in February.
Kernels of Nonsense:
In light of a few rather upsetting things happening in the book blogging community, I wrote a discussion post on The Ugly Side of Book Blogging. I talk about recent occurrences of plagiarism and catfishing in this one. I also did a discussion post on my decision to do away with monthly book hauls, which you can check out here: Eliminated Monthly Book Hauls.
Favorite Blog Meme Posts This Month:
Top Ten Tuesday: 2016 Bookish Resolutions – Putting together this post really helped me decide how I want to approach blogging this year. I want less pressure on myself, but I also want to be better at visiting fellow bloggers' posts.
Other Notable Posts This Month:
Aside from the three reading challenges I joined, I made a few personal reading goals I'd like to meet this year. You can find my posts here:
Authors I'm Reading for the First Time
Classics I'm Determined to Read
Winter 2016 Mini Bloggiesta – This was my second bloggiesta I've taken part in. Considering it was only a couple of days long, I actually got a lot done.
Things I'm Looking Forward to in February:
New Releases: Way back in December I preordered a few books, all of which come out this month. Covers linked to Goodreads.
How was your January? How are you enjoying the new year? What was the first five-star book you read this year? Let me hear from you in the comments and feel free to leave me a link to your own wrap-up post and I'll be sure to visit.