The Re-Read Challenge is hosted by
Belle of the Literati
and
So Obsessed With
. Wow, it's been a while. I don't know what happened, but when I first signed up for this challenge, I was so sure I would be able to reread a book every month, but there are just so many books, I don't always get the time. Earlier in the month I picked up several two-star books and felt so disappointed. I wanted, no, I
needed
to pick up a book I knew I'd enjoy. This is when I reached for Sarah Rees Brennan's
Untold
, the second book in the Lynburn Legacy series. What a breath of fresh air! This series is one of my very favorites and if you haven't had the pleasure of reading this series, I highly recommend you do. Cover is linked to Goodreads.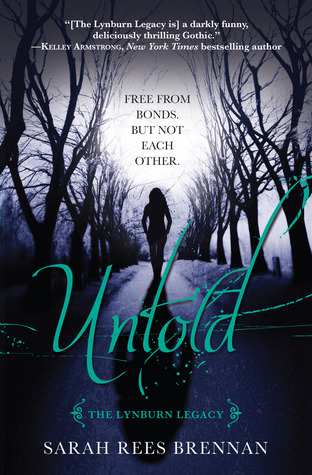 WHEN I First Read:
I read this in October of 2013, so it's been a full two years.
WHAT I Remember:
This book ruined me, but in a good way. I remember being really emotional while reading it and being so scared to finish the series afterward.
WHY I Wanted to Re-Read:
I haven't finished this series. The last book has been out since last year and I waited too long to pick it up, so I needed to reread the first two books.
HOW I Felt After Re-Reading:
I'm even more in love with these characters than I remember. Kami Glass is seriously one of my favorite protagonist ever. You can read my review of this one
here
. And if you are interested in finding out more about this series, my review for the first book
Unspoken
can be found
here
.
WOULD I Re-Read Again: 
Heck yes, are you kidding me? Once I finally pick up the last book, there's a good chance I'll want to reread all three books again.