I realize that I probably won't get through all of these books this month because of time constraints and also because sometimes it takes forever for certain library holds to come in, but I'm going to do my very best to pick up as many of these titles as I can. A couple of these have been out for a while, but the majority were just recently released. There's also one that I'm not actually sure is horror, but I've seen it on a couple of lists, so I assume it is. I guess I'll find out. I'm also listing two books that won't be released until later this month, but I'm still hoping I'll get to pick them up. Blurbs are from Goodreads and covers are linked to Goodreads as well.
Books I'm Looking Forward to Picking Up This October:
1. Asylum by Madeleine Roux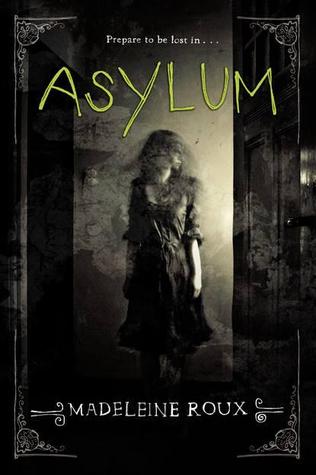 "For sixteen-year-old Dan Crawford, the New Hampshire College Prep program is the chance of a lifetime. Except that when Dan arrives, he finds that the usual summer housing has been closed, forcing students to stay in the crumbling Brookline Dorm—formerly a psychiatric hospital. As Dan and his new friends Abby and Jordan start exploring Brookline's twisty halls and hidden basement, they uncover disturbing secrets about what really went on here . . . secrets that link Dan and his friends to the asylum's dark past. Because Brookline was no ordinary mental hospital, and there are some secrets that refuse to stay buried."
2. The Fall by Bethany Griffin

"She has spent her life fighting fate, and she thought she was succeeding. Until she woke up in a coffin.

Ushers die young. Ushers are cursed. Ushers can never leave their house, a house that haunts and is haunted, a house that almost seems to have a mind of its own. Madeline's life—revealed through short bursts of memory—has hinged around her desperate plan to escape, to save herself and her brother. Her only chance lies in destroying the house.

In the end, can Madeline keep her own sanity and bring the house down?The Fall is a literary psychological thriller, reimagining Edgar Allan Poe's classic The Fall of the House of Usher."
3. The Creeping by Alexandra Sirowy
"Eleven years ago, Stella and Jeanie disappeared. Stella came back. Jeanie never did.

Now all she wants is a summer full of cove days, friends, and her gorgeous crush—until a fresh corpse leads Stella down a path of ancient evil and secrets.

Stella believes remembering what happened to Jeanie will save her. It won't.

She used to know better than to believe in what slinks through the shadows. Not anymore."
4. Slasher Girls and Monster Boys by Various
"A host of the sharpest young adult authors come together in this collection of terrifying tales and psychological thrillers. Each story draws from a mix of literature, film, television, or even music to offer something new and fresh and unsettling. Even better? After you've teased out each tale's references, satisfy your curiosity at the end, where the inspiration is revealed. There are no superficial scares here. These are stories that will make you think even as they keep you on the edge of your seat. From bloody horror, to the supernatural, to unnerving, all-too-possible realism, this collection has something for anyone looking for an absolute thrill."
5. The Accident Season by Moira Fowley-Doyle
Every October Cara and her family become inexplicably accident-prone. Some years it's bad, like the season when her father died, and some years it's just a lot of cuts and scrapes. They know what they need to do—stock up on bandages and painkillers, cover sharp table edges with padding, banish knives to locked drawers, switch off electrical items. They buckle up, they batten down.

But this accident season—when Cara; her ex-stepbrother, Sam; and her best friend, Bea, are seventeen—none of that will make a difference.

Because Cara is starting to ask questions. And the answers were never meant to be found.

A haunting, untethered, addictive read that perfectly captures that time in our lives when our hearts crack open and the raw secrets of our true selves burst forth—whether we are ready or not.
6. The Uninvited by Cat Winters
Twenty-five year old Ivy Rowan rises from her bed after being struck by the flu, only to discover the world has been torn apart in just a few short days.

But Ivy's life-long gift—or curse—remains. For she sees the uninvited ones—ghosts of loved ones who appear to her, unasked, unwelcomed, for they always herald impending death. On that October evening in 1918 she sees the spirit of her grandmother, rocking in her mother's chair. An hour later, she learns her younger brother and father have killed a young German out of retaliation for the death of Ivy's older brother Billy in the Great War.

Horrified, she leaves home, to discover the flu has caused utter panic and the rules governing society have broken down. Ivy is drawn into this new world of jazz, passion, and freedom, where people live for the day, because they could be stricken by nightfall. But as her 'uninvited guests' begin to appear to her more often, she knows her life will be torn apart once more, but Ivy has no inkling of the other-worldly revelations about to unfold.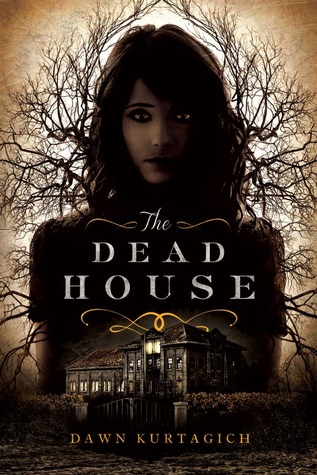 7. The Dead House by Dawn Kurtagich
"Over two decades have passed since the fire at Elmbridge High, an inferno that took the lives of three teenagers. Not much was known about the events leading up to the tragedy – only that one student, Carly Johnson, vanished without a trace…

…until a diary is found hidden in the ruins.

But the diary, badly scorched, does not belong to Carly Johnson. It belongs to Kaitlyn Johnson, a girl who shouldn't exist. Who was Kaitlyn? Why did she come out only at night? What is her connection to Carly?

The case has been reopened. Police records are being reexamined: psychiatric reports, video footage, text messages, e-mails. And the diary.

The diary that paints a much more sinister version of events than was ever made publicly known."
8. Thirteen Chairs by Dave Shelton
"In an abandoned house, the ghosts gather. They argue, they laugh, and they tell their stories. Some tell their own stories, some tell stories they have heard elsewhere. Some of them are true, some are not. But each tale draws you closer.

One by one, the storytellers depart, until suddenly it's just you and the narrator, alone in the dark…"
9. A Curious Tale of the In-Between by Lauren DeStefano
"Pram Bellamy is special–she can talk to ghosts. She doesn't have too many friends amongst the living, but that's all right. She has her books, she has her aunts, and she has her best friend, the ghostly Felix.

Then Pram meets Clarence, a boy from school who has also lost a parent and is looking for answers. Together they arrive at the door of the mysterious Lady Savant, who promises to help. But this spiritualist knows the true nature of Pram's power, and what she has planned is more terrifying than any ghost."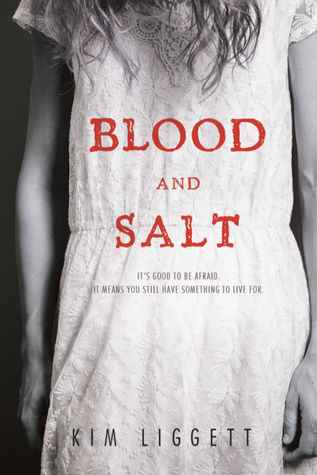 10. Blood and Salt by Kim Liggett
"Romeo and Juliet meets Children of the Corn in this one-of-a-kind romantic horror.

'When you fall in love, you will carve out your heart and throw it into the deepest ocean. You will be all in—blood and salt.'

These are the last words Ash Larkin hears before her mother returns to the spiritual commune she escaped long ago. But when Ash follows her to Quivira, Kansas, something sinister and ancient waits among the rustling cornstalks of this village lost to time.

Ash is plagued by memories of her ancestor, Katia, which harken back to the town's history of unrequited love and murder, alchemy and immortality. Charming traditions soon give way to a string of gruesome deaths, and Ash feels drawn to Dane, a forbidden boy with secrets of his own.

As the community prepares for a ceremony five hundred years in the making, Ash must fight not only to save her mother, but herself—and discover the truth about Quivira before it's too late. Before she's all in—blood and salt."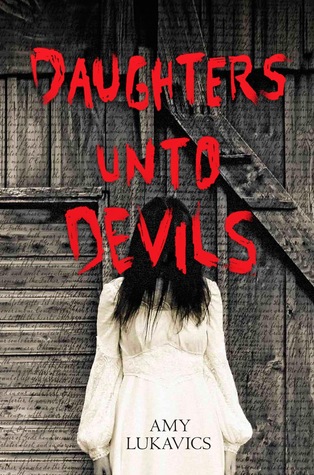 11. Daughter Unto Devils by Amy Lukavics
"When sixteen-year-old Amanda Verner's family decides to move from their small mountain cabin to the vast prairie, she hopes it is her chance for a fresh start. She can leave behind the memory of the past winter; of her sickly Ma giving birth to a baby sister who cries endlessly; of the terrifying visions she saw as her sanity began to slip, the victim of cabin fever; and most of all, the memories of the boy she has been secretly meeting with as a distraction from her pain. The boy whose baby she now carries.

When the Verners arrive at their new home, a large cabin abandoned by its previous owners, they discover the inside covered in blood. And as the days pass, it is obvious to Amanda that something isn't right on the prairie. She's heard stories of lands being tainted by evil, of men losing their minds and killing their families, and there is something strange about the doctor and his son who live in the woods on the edge of the prairie. But with the guilt and shame of her sins weighing on her, Amanda can't be sure if the true evil lies in the land, or deep within her soul."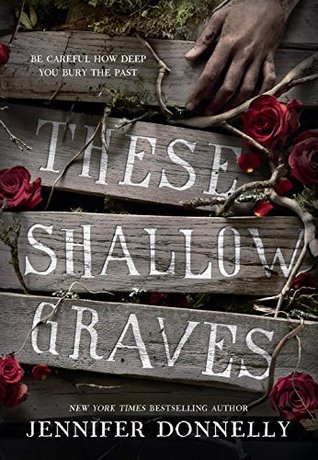 12. These Shallow Graves by Jennifer Donnelly
"Set in gilded age New York, These Shallow Graves follows the story of Josephine Montfort, an American aristocrat. Jo lives a life of old-money ease. Not much is expected of her other than to look good and marry well. But when her father dies due to an accidental gunshot, the gilding on Jo's world starts to tarnish. With the help of a handsome and brash reporter, and a young medical student who moonlights in the city morgue, Jo uncovers the truth behind her father's death and learns that if you're going to bury the past, you'd better bury it deep."
13. A Madness So Discreet by Mindy McGinnis
"Grace Mae knows madness.

She keeps it locked away, along with her voice, trapped deep inside a brilliant mind that cannot forget horrific family secrets. Those secrets, along with the bulge in her belly, land her in a Boston insane asylum.

When her voice returns in a burst of violence, Grace is banished to the dark cellars, where her mind is discovered by a visiting doctor who dabbles in the new study of criminal psychology. With her keen eyes and sharp memory, Grace will make the perfect assistant at crime scenes. Escaping from Boston to the safety of an ethical Ohio asylum, Grace finds friendship and hope, hints of a life she should have had. But gruesome nights bring Grace and the doctor into the circle of a killer who stalks young women. Grace, continuing to operate under the cloak of madness, must hunt a murderer while she confronts the demons in her own past."
Intrigued by any of these titles? Have you read any of these? Do you have plans to pick up any horror books this October? Have any horror recommendations for me? Be sure to share your thoughts in the comments.