I don't know what it is about the number seven, but I am consistently reading seven books a month. I probably could have read more, but I've notice I sometimes take a day or so to start a new book after finishing one. I failed to stick to a book buying ban even though I unofficially announced one last month during my book haul post. I also sustained a little hand injury at the end of the month which pretty much has me typing with one hand (no fun!). I'm hoping I'll recover soon because this is more exhausting than I ever imagined! Almost forgot to add a link to Book Date's link-up for monthly wrap-ups which you can find here.
(Book covers below are linked to my reviews.)
My Favorite Book This Month: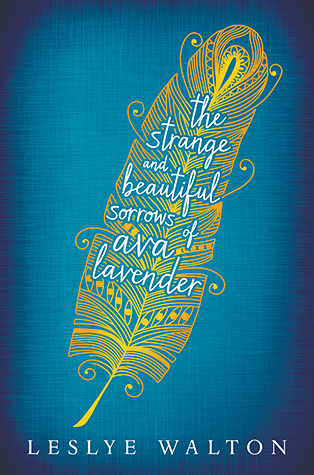 No question, The Strange and Beautiful Sorrows of Ava Lavender by Leslye Walton was my favorite book this month. Actually, it's my favorite book that I've read so far this year. If you haven't read it, pick it up, pick it up, oh my goodness, pick it up!
My Least Favorite Book:
I read a few two-star books this month, but I think this one was probably my least favorite among them. It really lacked in world building and characterization.
Other Reviews This Month:
The Re-Read Challenge:
Yes! I reread Unspoken by Sarah Rees Brennan. If you click on the cover above, it will take you to my review. And if you would like to see my thoughts on this reread, you can find that here.
Kernels of Nonsense:
This month in my discussion posts I talked about my reasons behind quitting a series even if I've enjoyed the first or second books (Kernels of Nonsense, #28: Discontinuing a Series) and I also made a bit of a confession post in Kernels of Nonsense, #29: I'm a Bookish Snob where I discussed some of my own views that can sometimes come across as "snobbish."
Favorite Blog Meme Posts This Month:
My favorite meme this month was Top Ten Tuesday: Books That Feature PoC Characters, diversity is really important to me and I'd love to see more books featuring racial/ethnic minorities.
Other Notable Posts This Month:
Bookish Indecisions, #2: The Unbecoming of Mara Dyer – I asked for your opinion about reading this one and you convinced me not to buy it (thank you!), but I did pick it up from the library and wasn't super impressed by it. My review is linked to the cover above.
Blogger Recognition Award – Loved doing this because there are some amazing bloggers that I'm glad are part of the book blogosphere.
3rd Annual ARC August Sign-Up – I decided to take part in this challenge because I have several ARCs I'd love to get through.
Book Haul: July's Simmering Steals – my haul for the month, you know the one I wasn't supposed to have. Whoops.
Things I'm Looking Forward to Next Month:
Rereading Sarah Rees Brennan's Untold – I must reread this second book because I need to get to the third book.
3rd Annual ARC August Challenge – my first time taking part in this challenge.
Book Buying Ban – I'm not exactly looking forward to this, but I'm determined to do it. Wish me luck!
How was your month of July? Feel free to link to your own wrap-up post and I'll be sure to visit.