I had some end-of-the-month blues, so excuse my rather lackadaisical (love this word!) attempt at a recap. This month I finished nine books including one reread. Most of my reads this month came from my shelves. I've been a very poor library patron lately. Hopefully this will pass because I need to step up my library reading, it's been abominable so far this year.
(Book covers below are linked to my reviews.)
My Favorite Book This Month:
(not including rereads)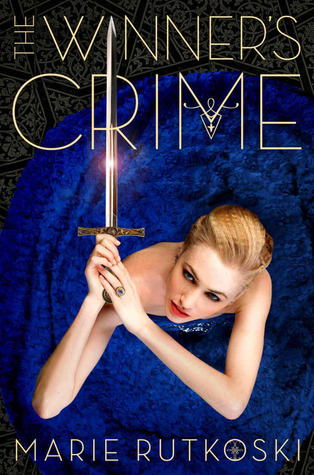 Marie Rutkoski's second novel, The Winner's Crime, in her Winner's Trilogy series was phenomenal. I loved everything thing about it, despite the fact that it almost killed me. This series has become one of my favorites and if you haven't gotten sucked in yet, do pick up the first book, The Winner's Curse.
My Least Favorite Book:
Miss Mabel's School for Girls by Katie Cross had an awesome premise, but left me wanting more.
Other Reviews in March:
Books I Read But Didn't Review Because I Was Too Lazy or Had More Substantial Reasons:
Elizabeth Wein's Code Name Verity was an emotional roller coaster. I wanted to write a review after finishing it, but I couldn't quite find the words and the words I did find gave far too much away. I did rate it four stars on Goodreads if you are curious. And if you are going to read this one, prepare yourself emotionally before doing so.
I took part in a little book club for Diana Gabaldon's Outlander because this book is huge and there was simply no way I was going to stay properly motivated to get through it without someone (Thank you, Jolien @ The Fictional Reader for hosting this!) I really planned to write a review for this one on Saturday and sat down at my laptop to begin it and then nothing happened. I may still write a review for this one because I do want to share what I think. Hopefully I can shake off this not-in-the-mood-to-write feeling and do so.
The Re-Read Challenge:
I reread Janet Lee Carey's Dragonswood last week and am still head-over-heels in love with it. Yes, it is part of a series, but can be read as a standalone. Don't make me say it. Okay, I'll say it. Go ahead and skip the first book and just pick up this one. You can read my review of it here.
Kernels of Nonsense:
I wrote two discussion post this month which you can find here:
Kernels of Nonsense, #20: eBooks vs. Print
 Kernels of Nonsense, #21: How Blogging Has Influenced My Reading
Favorite Blog Meme Posts This Month:
Top Ten Tuesday, #54: Ten Books I Wish Had Been a Part of My Childhood
Other Notable Posts This Month:
How was your month of blogging/reading? Have you been reading more books from your shelves or from the library? Have you read any of the books I did? What did you think?