This month I managed to finish eight books, including two rereads. So far this year I've been using my library a lot less. This isn't something I'm doing necessarily on purpose, but I've been planning what to read next in accordance to new releases, books on my shelf, ARCs, and rereads, so I haven't found a lot of free reading time to make very many hold requests. I feel like I've spend February preparing for March. I reread two books whose sequels come out within the next two weeks and spent very little on books because of the new releases in March. The month felt a little slow, but then the end kind of rushed by and before I knew it it was over.
(All book covers below are linked to my reviews.)
My Favorite Book This Month:
(not including rereads)

I really enjoyed Cat Winter's The Cure for Dreaming and am in love with the setting, the year 1900 with women's suffrage blazing a trail across the country. I can't wait to get my hands on this author's other book In the Shadow of the Blackbirds, which I heard is fantastic.
My Least Favorite Book: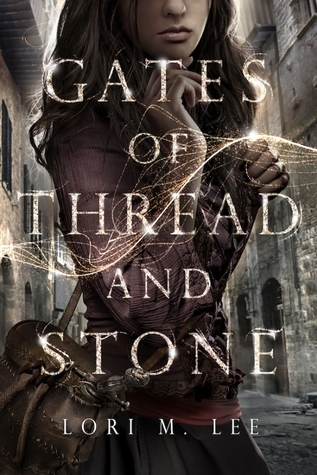 Lori M. Lee's Gates of Thread and Stone was one of those books I never got to last year and as time passed, I kind of forgot about it, then I saw it available along with its sequel on NetGalley. It turns out this one wasn't as good as I'd hoped 😦
Other Reviews in February:
I reread Rachel Hartman's Seraphina and Marie Rutkowski's The Winner's Curse. You can read my thoughts on each reread here.
Kernels of Nonsense:
This month I discussed my feelings toward spoilers in reviews (Kernels of Nonsense, #18: To Spoil or Not to Spoil) and the negative impact of book hype (Kernels of Nonsense, #19: Book Hype).

Favorite Blog Meme Posts This Month:
Top Ten Tuesday, #48: Top Ten Romantic Tropes I Dislike
Top Ten Tuesday, #49: Ten Book Related Problems I Have
Other Notable Posts This Month:
Nonsensical Valentine's Day Book Recommendations
20 Things (You Probably Didn't Know) About Me Tag
Book Haul: February Frugal Finds
How was your month of blogging/reading? What was your favorite and least favorite read? Did it feel like February flew by? Did you get less done because of the short month?