The Friday 56 is a weekly blog meme hosted by Freda's Voice. Join in every Friday, the rules are simple.
Rules:
*Grab a book, any book.
*Turn to page 56 or 56% in your eReader.
*Find any sentence (or a few, just don't spoil it) that grab you.
*Post it.
*Add your (url) post here in Linky. Add the post url, not your blog url. It's that simple.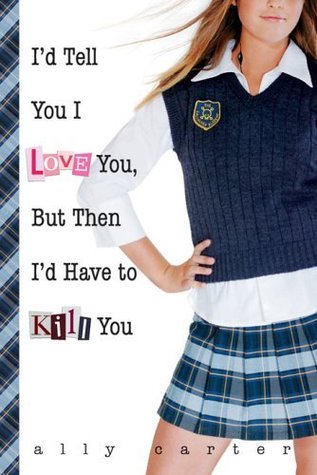 "Before I knew what was happening, Bex had flown from her seat, pinned Macey's right arm behind her back with one hand, and grabbed the diamond nose ring with the other so fast that I said a quick prayer of thanks that the British are on our side."
I dismissed this book the moment I saw it. I judged it by its cover, but in a spur of the moment, I decided to pick it up from the library. Ally Carter's I'd Tell You I Love You, But Then I'd Have to Kill You is fun, hilarious, and spotlights a tight group of girlfriends. I have a lot of love for the Gallagher Girls series because it managed to surprise me in more ways than one and took me on one heck of a roller coaster ride.
From Goodreads:
"Cammie Morgan is a student at the Gallagher Academy for Exceptional Young Women, a fairly typical all-girls school-that is, if every school taught advanced martial arts in PE and the latest in chemical warfare in science, and students received extra credit for breaking CIA codes in computer class. The Gallagher Academy might claim to be a school for geniuses but it's really a school for spies. Even though Cammie is fluent in fourteen languages and capable of killing a man in seven different ways, she has no idea what to do when she meets an ordinary boy who thinks she's an ordinary girl. Sure, she can tap his phone, hack into his computer, or track him through town with the skill of a real "pavement artist"-but can she maneuver a relationship with someone who can never know the truth about her?
Cammie Morgan may be an elite spy-in-training, but in her sophomore year, she's on her most dangerous mission-falling in love."