The Friday 56 is a weekly blog meme hosted by Freda's Voice. Join in every Friday, the rules are simple.
Rules:
*Grab a book, any book.
*Turn to page 56 or 56% in your eReader.
*Find any sentence (or a few, just don't spoil it) that grab you.
*Post it.
*Add your (url) post here in Linky. Add the post url, not your blog url. It's that simple.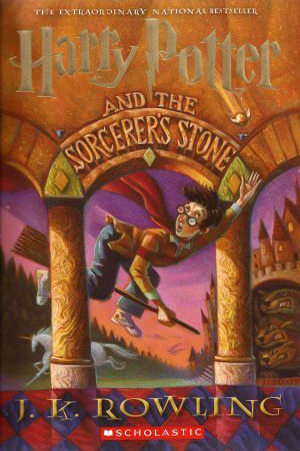 "Now, you listen here, boy," he snarled, "I accept there's something strange about you, probably nothing a good beating wouldn't have cured — and as for all this talk about your parents, well, they were weirdos, no denying it, and the world's better off without them in my opinion…"
I was feeling nostalgic, so decided J. K. Rowlings's Harry Potter and the Sorcerer's Stone would do for this week's pick.
From Goodreads:
"Harry Potter has never played a sport while flying on a broomstick. He's never worn a Cloak of Invisibility, befriended a giant, or helped hatch a dragon. All Harry knows is a miserable life with the Dursleys, his horrible aunt and uncle, and their abominable son, Dudley. Harry's room is a tiny cupboard under the stairs, and he hasn't had a birthday party in ten years.
But all that is about to change when a mysterious letter arrives by owl messenger: a letter with an invitation to a wonderful place he never dreamed existed. There he finds not only friends, aerial sports, and magic around every corner, but a great destiny that's been waiting for him… if Harry can survive the encounter."