The Friday 56 is a weekly blog meme hosted by Freda's Voice. Join in every Friday, the rules are simple.
Rules:
*Grab a book, any book.
*Turn to page 56 or 56% in your eReader.
*Find any sentence (or a few, just don't spoil it) that grab you.
*Post it.
*Add your (url) post here in Linky. Add the post url, not your blog url. It's that simple.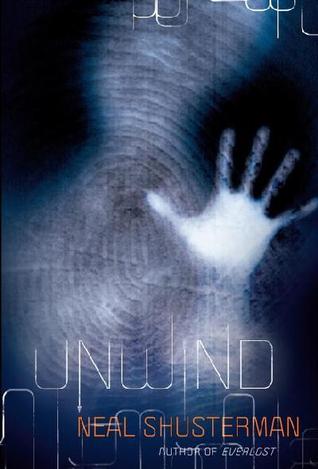 "We're not perps," says Connor, "we're AWOLs."

"We're felons," says Lev. "Because what you're doing–I mean, what we're doing–it's a federal crime."

"What, stealing clothes?" asks Connor.

"No, stealing ourselves."
Neal Shusterman's Unwind is a look at a terrifying society where a teenager's right to life is suspended in accordance with a new law that allows parents to discontinue their own child's life if they are deemed too difficult. I read this a few years back and it still makes me shudder.
From Goodreads:
"The Second Civil War was fought over reproductive rights. The chilling resolution: Life is inviolable from the moment of conception until age thirteen. Between the ages of thirteen and eighteen, however, parents can have their child "unwound," whereby all of the child's organs are transplanted into different donors, so life doesn't technically end. Connor is too difficult for his parents to control. Risa, a ward of the state is not enough to be kept alive. And Lev is a tithe, a child conceived and raised to be unwound. Together, they may have a chance to escape and to survive."