The Friday 56 is a weekly blog meme hosted by Freda's Voice. Join in every Friday, the rules are simple.
Rules:
*Grab a book, any book.
*Turn to page 56 or 56% in your eReader.
*Find any sentence (or a few, just don't spoil it) that grab you.
*Post it.
*Add your (url) post here in Linky. Add the post url, not your blog url. It's that simple.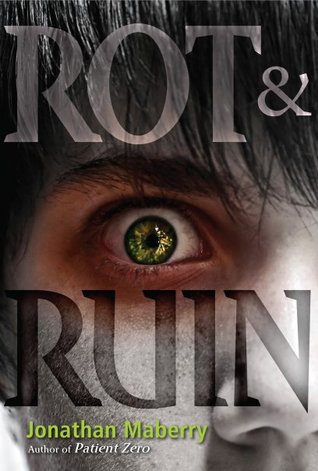 "Tell me something, Benny," said Tom. "What would you have done if one of your friends…had come to Aunt Cathy's funeral and took a leak in her coffin?"

Benny was so startled by the question that his answer was unguarded. "I'd have jacked them up. I mean, jacked them up…What kind of question is that, though?"

"Indulge me. Why would you have freaked out on your friends?"

"Because they dissed Aunt Cathy, why do you think?"

"But she's dead."
In celebration of Friday the 13th (does one celebrate Friday the 13th?) I decided to spotlight one of my favorite zombie series, the Benny Imura series by Jonathan Maberry. Here I feature the first book, Rot & Ruin, in the four-book series. Here Tom tries to explain to his little brother why it isn't okay to desecrate the dead, zombie or not.
From Goodreads:
"In the zombie-infested, post-apocalyptic America where Benny Imura lives, every teenager must find a job by the time they turn fifteen or get their rations cut in half. Benny doesn't want to apprentice as a zombie hunter with his boring older brother Tom, but he has no choice. He expects a tedious job whacking zoms for cash, but what he gets is a vocation that will teach him what it means to be human."